Cheetos has unveiled some interesting flavors and product innovations over the years but the brand isn't done yet! Get ready spicy food-lovers, the hottest snack ever is hitting the shelves! Frito Lay just announced that they're adding the hottest chip ever to their Flamin' Hot portfolio and they're called Flamin' Hot Pepper Puffs.
This new flamin' snack features the spicy flavor of hot peppers. Fair warning you may want to have a cold beverage, or perhaps a glass of milk nearby because your tastebuds will be on FIRE! What makes this snack even more fun is that each Cheeto puff is shaped like a pepper too!
Here's the catch, Flamin' Hot Pepper Puffs are only available for a limited time at Walmart and Circle K so once you find them make sure you score yourself a few bags. They are supposed to be hitting the shelves this week so be sure to keep your eyes peeled! Additionally, 7oz bags will have a suggested retail price of $3.99 while the 2.37oz bags will have a suggested retail price of $1.89. Check out the full Flamin' Hot lineup on Cheetos' website.
We want to know, will you be brave enough to try them?
Source: Frito Lay
In case you're looking for more ways to add Flamin' Hot Cheetos into your life you should check out our Flamin' Hot Mac and Cheese recipe! It's everything you love about classic mac and cheese just with a spicy twist! You could also toss these spicy puffs in a sandwich or crumbled on top of a tater tot casserole? The options are really endless!
https://www.forkly.com/recipes/instant-pot-flamin-hot-cheetos-mac-and-cheese/ PHOTO AND RECIPE HERE: FORKLY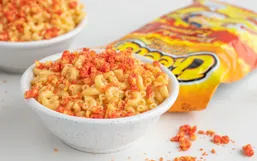 There is no comfort food like mac and cheese - the carbs and cheese are oh so delicious!
Summer is officially here and what better way to treat yourself and stay cool than with a refreshing beverage in hand!
The microwave is an amazing kitchen appliance. It can heat up leftovers quickly, help make delicious snacks like popcorn, and so...
Disney theme parks and Disney Cruise Lines may be temporarily closed and suspended but that isn't stopping Disney from finding...
Hard seltzers have become the trendiest drink as of late and for good reason!
It's time to check your freezers because over 59-thousand pounds of fully cooked frozen chicken nuggets are being recalled due to...
Disney's theme parks are renowned for many things from the exciting rides to friendly characters, and of course its delicious...
Dunkin' is renowned for its coffee, tea, and delicious donuts but now the chain is entering a new drink category by offering new...
Over the last few months, Disney has shared some of their most coveted recipes with their fans so you can at least feel like...
Summer is officially in full swing and now you can make the most of it with Shake Shack's new beverages!
Taco Bell is no stranger to innovative and exciting menu items.
National Lasagna Day is quickly approaching (July 29, 2020), and North Italia wants to help you celebrate!