Dalgona, also known as that frothy coffee drink, took the internet by storm, and now people can't stop making it! This frothy beverage is so simple yet so genius and is a fun way to enjoy your morning cup of joe. Since then people have been getting even more creative in the kitchen and are making their own version. So far we have seen whipped Nutella milk, whipped strawberry milk, and even whipped peanut-butter milk and now there's a new grown-up boozy version that you seriously need to try!
Boozy Whipped Coffee was first shared by My Recipes and their recipe makes a whopping batch for 12! That said, judging by their recipe they still use the same equal ratios (except for sugar) just like the original Dalgona coffee so you could easily decrease the measurements to make enough for one or two — your choice! Just like the original Dalgona, this drink requires instant coffee, water, and sugar. But to make this drink boozy you're going to need a coffee liqueur!
Ok, now onto how to make this delicious creation! Here's how you can make it:
According to the recipe, you'll want to start by mixing the sugar and instant coffee together. If you're making a single serving we suggest 1 tablespoon instant coffee and 2 tablespoons sugar (you can always adjust the sugar to make your drink more or less sweet).
Next using a stand mixer and a whisk attachment, add 1 tablespoon hot water and mix on low. Again you can do this by hand but fair warning, it will take a while.
Next, add 1 tablespoon liqueur (Kahlúa or baileys would work great!) and mix with a medium-high speed. Mix for up to 10 minutes or until it's soft, fluffy, and peaks form.
Once your mixture is perfectly fluffy you're ready to serve it as a topping on a cup of hot coffee, cold coffee, cold milk, or Irish Cream on the rocks — your choice!
Enjoy!
Check out the original recipe on My Recipe's website.
Source: monticello / Shutterstock.com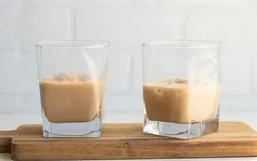 Bailey's Irish Cream anyone? So delicious. Irish Cream Liqueur is a summer drink staple, whether it's in your coffee at the...
Summer is officially here and what better way to treat yourself and stay cool than with a refreshing beverage in hand!
The microwave is an amazing kitchen appliance. It can heat up leftovers quickly, help make delicious snacks like popcorn, and so...
Disney theme parks and Disney Cruise Lines may be temporarily closed and suspended but that isn't stopping Disney from finding...
Hard seltzers have become the trendiest drink as of late and for good reason!
It's time to check your freezers because over 59-thousand pounds of fully cooked frozen chicken nuggets are being recalled due to...
Disney's theme parks are renowned for many things from the exciting rides to friendly characters, and of course its delicious...
Dunkin' is renowned for its coffee, tea, and delicious donuts but now the chain is entering a new drink category by offering new...
Over the last few months, Disney has shared some of their most coveted recipes with their fans so you can at least feel like...
Summer is officially in full swing and now you can make the most of it with Shake Shack's new beverages!
Taco Bell is no stranger to innovative and exciting menu items.
National Lasagna Day is quickly approaching (July 29, 2020), and North Italia wants to help you celebrate!