The holiday season is fast approaching and Christmas will be here before you know it! Seasonally themed drinks are often the most overlooked parts of a Christmas party. Spice things up this year with a signature drink. We found 12 amazing Christmas drinks that you are going to love. We have some wonderful hot chocolate drinks for children, and we have some alcoholic drinks just for adults. We didn't forget about that classic Christmas drink- eggnog! We included both a traditional version, and one that's egg free.
Related Topics (Ads):
What is your holiday drink of choice?
Want seasonal and holiday content delivered straight to your inbox? Sign up now and receive free exclusive recipes, unique party hosting ideas and more!
12. Candy Cane Martini
There are always candy canes laying around during the holiday season, so why not put them to good use in the form of a delicious martini? This candy cane martini recipe will be a huge hit with your guests and the perfect burst of peppermint to complement the holiday season.
To make this recipe you'll need three simple ingredients: vanilla vodka, white crème de cacao, and peppermint schnapps. Be sure to garnish the ring with smashed candy cane or peppermint candy for the perfect festive touch. Raise a glass and toast with a candy cane martini this upcoming holiday season!
11. Classic Mulled Wine
There's something so cozy about snuggling up with a warm glass of mulled wine, especially during the holiday season! Classic mulled wine is a perfect drink to serve for your next holiday gathering. It's a warm drink that your guests will surely appreciate after traveling to your home in the snow.
This recipe is incredibly easy to make and only requires a few ingredients that you may already have at home. The recipe uses a bottle of Merlot as the base and is mixed with brandy, orange slices, maple syrup, cinnamon sticks, anise, and whole cloves. Garnish with fresh whole cranberries, more cinnamon sticks, and a few additional orange rounds!
10. Holiday Sangria
You may be under the false impression that sangria is a summer drink, but this is definitely far from true! There are so many ways to make sangria during the cooler months. We love this festive holiday sangria with delicious flavors of cinnamon, nutmeg, and clove spices. These spices pair beautifully with the wine. A starfruit gives an extra special Christmas touch.
This specific holiday sangria uses Merlot as a base. Simmer wth sugar, cinnamon, nutmeg, and cloves then stir in ginger ale, chopped apples, orange slices, cranberries and cinnamon sticks to the mixture. Your guests will love this fizzy wine beverage!
9. Homemade Eggnog
Skip buying the cheap eggnog you can get at the grocery store this year and try making it yourself! Major bonus points for the fact that you'll be able to tell your guests you made this from scratch and the quality will be tenfold better. You can add rum to this drink or leave it out if you wish.
To make this recipe you'll need egg yolks, heavy whipping cream, granulated sugar, milk, ground nutmeg, salt, vanilla extract and ground cinnamon. The final result is thick and creamy with a hint of nutmeg which is perfectly fitting for the holiday season.
8. Rosemary Pear Spritzer
Nothing says holiday cheer like a delicious fruity spritzer! This rosemary pear spritzer is easy to make and delicious. The recipe has no alcohol so it's a safe treat for children, but you could always add in some rum or vodka to kick it up for adults.
This recipe brings you through how to make a rosemary syrup using 3 simple ingredients: water, sugar and a few sprigs of rosemary. Mix with pear juice and lemon juice and serve over ice. Top with seltzer, garnish with rosemary sprigs and serve! This recipe is the perfect fruity yet light drink to serve as your guests arrive.
7. Caramel Hot Chocolate
Is there any holiday drink more iconic than a classic hot chocolate? This drink will be a fan with guests of all ages at your holiday gathering! This luxurious hot chocolate is made with Ghirardelli chocolate caramels. It's creamy and rich with a hint of caramel. This is really the way hot chocolate was meant to be made.
To make this recipe, melt half and half cream with your chocolate in a medium saucepan. Continue to whisk until the mixture is smooth and the chocolate is melted. Serve immediately with a dollop of whipped cream and a drizzle of caramel topping!
6. Eggless Eggnog
If you skip the eggnog because of an egg allergy, or if you think a raw egg drink is gross, then this is the recipe for you. It skips eggs all together and instead uses vanilla pudding mix. The result is a thick, creamy drink with all the flavor of classic eggnog.
To make this recipe you'll need milk, white sugar, a package of instant vanilla pudding mix, rum-flavored extract, ground nutmeg, ground allspice, and ground ginger. Blend the ingredients in a blender until smooth. Refrigerate until thickened and stir well before serving. The result is thick, creamy and rich "egg"nog that your guests will never forget.
5. S'Mores Hot Chocolate
If you're looking to make a nontraditional hot chocolate drink to serve at your upcoming holiday, we have just the recipe for you! While the hot chocolate itself is absolutely delicious, the topping is truly what makes this drink so unique. It's genius!
Rim your mug with graham cracker crumbs and carefully fill the cup with your hot chocolate. Stuff a large amount of miniature marshmallows on top and flame with a blow torch, or under your broiler. Drizzle chocolate syrup and you've got a show stopper holiday drink that looks so professional. Both adults and kids will be impressed with this drink!
4. Cherry Almond Cocktail
This sophisticated cocktail is perfect for drinking with friends and family. Cherry Brandy is mixed with Amaretto and cream. Top with lots of ice and a cherry for garnish. Sip this drink slowly and enjoy every ones company this Holiday season.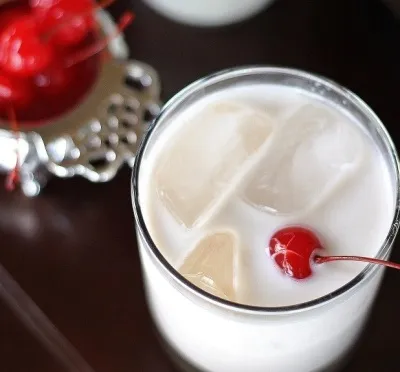 [Source: Celebrations At Home]
3. Rudolph's Tipsy Spritzer
We love the name of this drink, and the taste is amazing too. Orange and lemon juice is mixed with lemon/lime soda and vodka. The blush comes from maraschino cherry juice. You can easily make this drink safe for children by replacing the vodka with more soda.
It only takes about 10 minutes to prep and is the perfect light cocktail to offer guests as they arrive. To make this drink you'll mix all ingredients and serve over ice. Garnish with lemon slices and rosemary sprigs for a gorgeous presentation and festive feel. This delicious drink will be a surefire hit!
2. Nutella Hot Chocolate
The only thing that could make hot chocolate taste even better is if there was Nutella involved, and that's where this delicious beverage comes in. This Nutella hot chocolate recipe is so simple, and it's a fantastic twist on a classic that I think your family will love.
To make this recipe you'll need low fat/skim milk, Nutella, unsweetened cocoa powder and sugar. Be sure to also have some fun toppings on hand such as marshmallows, crushed hazelnuts, chocolate chips and of course, extra Nutella. The result is a frothy, creamy drink that will quickly become your go-to hot chocolate recipe.
1. Cranberry Raspberry Snowball Punch
Make a big batch of this delicious snowball punch and let your guests enjoy serving themselves this Holiday season. This yummy drink is made with cranberry and raspberry juice, with the addition of raspberry preserves to sweeten it up. The drink gets the "snowball" name because scoops of vanilla ice cream are added on top to give the punch the look of snow.
To make this recipe you'll need cranberry nectar, raspberry jam, lemon-lime flavored carbonated beverage and a quart of vanila or vanilla bean ice cream. This punch will be a total hit with your guests this holiday season!
Want seasonal and holiday content delivered straight to your inbox? Sign up now and receive free exclusive recipes, unique party hosting ideas and more!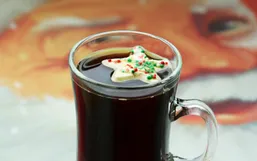 During the holidays, depending on where you live of course, it often involves gathering around with warm beverages in hand.
There's something...well...magical...yes, Christmas magical about a Reese's Peanut Butter Cup.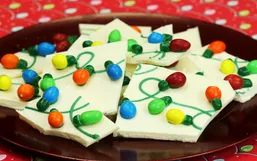 Chocolate barks are my absolute favorite go-to for large batch treats you can store for weeks and hand out as needed to neighbors,...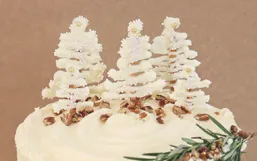 Last year, we created these adorable festive Christmas Tree Brownies, and well...the video recipe for them went viral overnight!
The holidays are known to be the hardest season of the year in terms of the age-old battle of the bulge.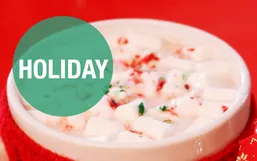 It's that time of year, the season of giving. It's magical and wonderful - and oh, don't forget the mailman!
The centerpiece for your Christmas dinner is a great turkey or ham, but the side dishes are just as important.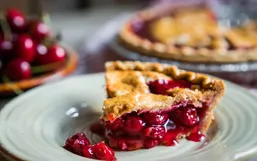 Christmas pies are a delicious addition to the holiday season. While we love the classic pumpkin pie, there are a ton of other...
A Christmas cake is the centerpiece of your holiday meal. After you're stuffed with turkey and all the fixings, the only thing...
Decorating the tree always gets me into the mood for the holidays. As soon as the tree is up I'm in full force Christmas mode.
So you've volunteered to host Christmas dinner this year. The initial voluntary statement may have sounded exciting but if you...
When the holidays roll around the first order of business is setting up the Christmas tree and decorations.