Let's talk about superfoods. They are nutrient rich foods that will benefit your health and wellness significantly. We hear about superfoods all the time online but do we really know how to eat them in delicious and beneficial ways? Chia Seeds can seem awfully complicated and bizarre to eat if you're never tried them before. How about Cacao Nibs? What's the difference between Cacao Nibs and Cocoa anyway? Here are some fantastic recipes that will make your eating habits better and will help you make good use of these amazing foods.
1. Chia Seeds
Satisfy that sweet tooth with some sugar free chocolate chia pudding. It's so easy to make and needs only a few ingredients.
http://www.insonnetskitchen.com/sugar-free-chocolate-chia-pudding/ Photos and Recipe By: In Sonnet's Kitchen
2. Wheat Germ
Good Morning! Fill up on these amazing breakfast muffins that are packed with benefits.
http://bakerbynature.com/my-favorite-morning-glory-muffins/#more-31258 Photos and Recipe By: Baker By Nature
3. Bee Pollen
Yep, that's right, bee pollen. It's nature's multivitamin!
4. Spirulina Powder
A perfect mid morning snack is filled with some incredibly beneficial Spirulina!
http://www.unsweetenedcaroline.com/glowing-green-spirulina-smoothie/ Photo and Recipe By: Unsweetened Caroline
5. Goji Berries
Eating these superfoods doesn't have to be unenjoyable! Dig into this pretty little raw cheesecake and reap the health benefits.
https://thehealthyfamilyandhome.com/raw-lemon-and-goji-berry-cheesecake/ Photo and Recipe By: The Healthy Family and Home
6. Coconut Oil
Next time you're invited to someone's house for supper, bring these brownie bites along!
https://www.melskitchencafe.com/fudgy-coconut-oil-brownie-bites/ Photos and Recipe By: Mel's Kitchen Cafe
7. Hemp Hearts
Energy bites are the best way to get the health benefits of hemp hearts when you have a busy schedule. Bring these along with you throughout the day so you have something healthy to munch on.
http://www.ineverything.ca/dark-chocolate-hemp-heart-energy-bites-giveaway/ Photos and Recipe By: In Everything
8. Maca Powder
Warm up your soul with some maca powder hot chocolate on a rainy day.
https://www.loveandlemons.com/maca-cacao-hot-chocolate/ Photos and Recipes By: Love and Lemons
9. Quinoa
Quinoa is a wonderful food to have for lunch and dinner. It can be substituted in the place of pasta or rice and is filled with tons of benefits.
https://www.gimmesomeoven.com/cucumber-quinoa-salad-recipe/ Photos and Recipe By: Gimme Some Oven
10. Matcha Green Tea Powder
One serving of this latte fits perfectly in a mason jar and can accompany you onto the patio to soak up some sunshine.
http://celebratingsweets.com/iced-matcha-green-tea-latte/ Photos and Recipe By: Celebrating Sweets
11. Cacao Nibs
I love Cacao Nibs and always include them in my breakfast bowls with some fresh fruit! Delicious.
http://www.cottercrunch.com/vegan-dirty-chai-detox-breakfast-bowls/ Photos and Recipe By: Cotter Crunch
12. Blueberries
Make your next party food, a superfood! This salsa packs a party onto your chips with blueberries and red peppers.
http://thestayathomechef.com/blueberry-red-bell-pepper-salsa/ Photos and Recipe By: The Stay At Home Mom Chef
13. Kale
This is one of my favorite last minute supper recipes. Fill up on this one pot pasta filled with wilted kale – you won't regret it.
http://diethood.com/kale-feta-one-pot-pasta/ Photos and Recipe By: Diethood
14. Cinnamon
Iced Tea is usually packed with sugar, but not today! Have one, two or even three cups of this amazing bevy.
https://www.fooduzzi.com/2016/06/cinnamon-turmeric-iced-tea/ Photos and Recipe By: Fooduzzi
15. Dark Chocolate
Yes, you can now say chocolate is beneficial…dark chocolate that is!
https://www.asweetpeachef.com/850-dark-chocolate-peanut-butter-cups/ Photos and Recipe By: A Sweet Pea Chef
Salads aren't just for those on a diet anymore. Properly made, they can be a filling and delicious meal.
When you think of summertime, what's the one fruit that stands out to you as THE fruit of the summer?
Hey Forkly Followers! As a writer at Forkly, I try to walk the walk when it comes to what I make at home.
Having a backyard garden is one of the amazing ways you can cut down on your grocery costs while filling your body with fresh,...
When everyone is back at school and extra curricular activities kick in, it can be difficult to find time to have an after school...
Looking for a meat-free alternative to a classic chicken salad sandwich? We've got it for you.
Finding the right protein bar that isn't packed with sugar and additives can be a difficult task.
Chickpeas are always thought of as the ingredient required to make hummus and a bunch of other healthy foods.
Suppertime can be the best time or a time of chaos and dread. Why?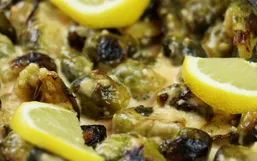 I remember when someone told me their favorite vegetable dish was Roasted Brussels Sprouts. I was not only shocked, but disgusted.
Cooking vegetables can be as simple or as complicated as you make it but at the end of the day, you want a delicious dish with the...
Have you been walking the grocery aisles and seeing "organic this, organic that"?