Eggnog can be a hot topic over the holidays. Some tend to think it's a disgusting concoction, while the rest of us are swooned by it's thick creamy nutmeg-y loveliness, that may or may not remind you of a socially acceptable way of drinking of something comparable to pancake batter, laced with booze. If you simply can't get enough of eggnog (pfft, as if one can get enough!) then here's some recipes to get the eggnog party going all season long.
Related Topics (Ads):
1. Christmas Meringues With Eggnog Buttercream
These are a really fun idea for making a cookie, that's not quite a cookie. They're light and airy and will be gorgeously displayed on a dessert table over the holidays. With buttercream filling that's laced with eggnog and rum flavoring, they'll melt right in your mouth.
http://www.thebewitchinkitchen.com/christmas-meringues/ Photo by: The Bewitchin Kitchen
2. Eggnog Overnight Oats
Now, I realize that eggnog is a typical evening and occasionally mid-day drink to enjoy. However, you're an adult and nobody can tell you what to do. So yay! Breakfast eggnog, with a spoon!
http://www.fivehearthome.com/2015/12/17/eggnog-overnight-oats-breakfast-recipe/ Photo by: Five Heart Home
3. Eggnog French Toast
My parents are the kind of people who like to saturate the holidays with everything holiday. So this is exactly the type of breakfast they'd whip up on Christmas morning. Plus, did I not just give you permission to enjoy breakfast eggnog? Let me tell you the ways…
http://www.cookingclassy.com/eggnog-french-toast/ Photo by: Cooking Classy
4. Eggnog Snickerdoodles
Snickerdoodles are my favorite sugar cookie to make. Why? Well, because I'm impatient baker and don't like the the process of all the rolling and the cutting. Making the dough was enough work, thank you very much. So this recipe is completely in my realm of do-able for me, and they always turn out! This recipe takes a classic snickerdoodle, and makes it FESTIVE with eggnog!
http://amyshealthybaking.com/blog/2014/12/08/eggnog-snickerdoodles/ Photo by: Amy's Healthy Baking
5. Eggnog Dip
Served with graham crackers or ginger snap cookies, this recipe is a step away from me just face planting in the bowl.
http://www.wineandglue.com/2014/11/eggnog-dip.html Photo by: Wine and Glue
6. Winter Snow Flurry Cake With Fluffy Eggnog Frosting
When you're stuck inside during a blizzard or snow storm, bake up this winter flurry to make everything feel okay again in the world. Maybe it's your reward for shoveling? Sure!
http://thecozyapron.com/winter-snow-flurry-cake-and-not-allowing-the-seasons-dreams-to-melt-away/ Photo by: The Cozy Apron
7. Glazed Eggnog Donuts
These aren't just eggnog glazed, the donuts themselves are eggnog infused, too. Eggnog inception.
http://www.pumpkinnspice.com/2015/12/02/glazed-eggnog-donuts/ Photo by: Pumpkin 'n Spice
8. Eggnog Cupcakes
…with spiced rum buttercream frost.
http://www.notey.com/@bakersroyale_unofficial/external/420048/eggnog-cupcakes-withspiced-rum-bakers-royale.html?utm_content=buffere32c7&utm_medium=social&utm_source=pinterest.com&utm_campaign=buffer Photo by: Baker's Royale
9. Eggnog Creme Brulee
There's something special about tapping a spoon against the top crust of a creme brulee, breaking it, and diving in. This one comes to you with an added bonus of being dairy-free, but full of nog.
http://cookingwithcurls.com/2013/12/21/eggnog-creme-brulee-cooking-astrology/ Photo by: Cooking With Curls
10. Eggnog Fudge
Whipped up in less than 15 minutes, it's your favorite winter bevvie, served up as fudge!
http://www.bakingbeauty.net/eggnog-fudge/ Photo by: Baking Beauty
11. Eggnog Macarons
These are a great option if you or a loved one is gluten free, or grain free. Macarons, are made with almond flour! The "cookie" portion is flavored with nutmeg (a token spice often topped on eggnog) and the icing filling, is eggnog frosting. Oh, my.
http://www.thegunnysack.com/eggnog-macarons-recipe/ Photo by: The Gunny Sack
12. Healthy No-Bake Eggnog Balls
I had to throw in a healthy one… because over the holidays and with the sheer mass of indulgences to be tempted with, it's always lovely to have a few you can truly feel okay about enjoying, guilt-free!
http://thebigmansworld.com/2015/11/20/healthy-no-bake-eggnog-bites/ Photo by: The Big Mans World
There's something...well...magical...yes, Christmas magical about a Reese's Peanut Butter Cup.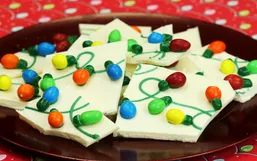 Chocolate barks are my absolute favorite go-to for large batch treats you can store for weeks and hand out as needed to neighbors,...
Candy canes are basically a Christmas holidays mascot. The peppermint candy sticks with a hook on the top, so you can hang them on...
The holidays are known to be the hardest season of the year in terms of the age-old battle of the bulge.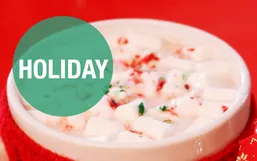 It's that time of year, the season of giving. It's magical and wonderful - and oh, don't forget the mailman!
The best part about Christmas for any kid (or adult for that matter) is the delicious treats that pop up everywhere.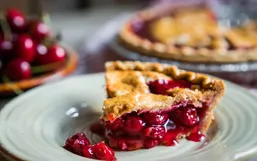 Christmas pies are a delicious addition to the holiday season. While we love the classic pumpkin pie, there are a ton of other...
A Christmas cake is the centerpiece of your holiday meal. After you're stuffed with turkey and all the fixings, the only thing...
Christmas has this tendency to sneak up on us each year. It approaches at a fast rate and before we know it the big day has...
So you've volunteered to host Christmas dinner this year. The initial voluntary statement may have sounded exciting but if you...
When the holidays roll around the first order of business is setting up the Christmas tree and decorations.
Snacks are crucial for everyone. They keep us full in between meals and quench our cravings.