Who is sick of salads?! So many people. Especially since we are getting ready for summer, so many of us are probably thinking, "If I see one more piece of spinach or kale, I'm going to cry". Well, salad can be so exciting and delicious that you actually CRAVE it. What?! Yup, you better believe it. Check out this list of ten items that will renew your love and your hope in salads so you can keep eating healthy, while eating delicious food.
1. Loaded Veggie Salad with Chickpeas
Needing a little protein and lot of veggies? This salad is for you! It is packed with black beans, corn, avocado and so much more!
http://www.pipandebby.com/pip-ebby/2016/8/31/loaded-veggie-salad-with-chickpeas-and-black-beans Photos By: Pip and Debby
2. Pesta Potato Chickpea Salad
Potato salads can get so unhealthy, so quickly. Put together this great salad that is good for you and won't fill you up with tons of additives. You'll also get a good kick of protein as well!
http://keepinitkind.com/pesto-potato-chickpea-salad/ Photos By: Keepin It Kind
3. Summer Goodness Salad
If it's a hot hot day out, don't turn on the oven! Create this sweet and savoury salad that will cool you from the inside out. It's so flavorful and very filling!
http://vikalinka.com/2015/09/07/summer-goodness-salad/ Photos By: Vikalinka
4. Peach, Heirloom Tomato and Burrata Salad
When peach season rolls around, there's no better fruit to use than this! This simple yet fancy salad will look beautiful on a plate and will be so memorable at a dinner party.
https://www.acouplecooks.com/peach-heirloom-tomato-and-burrata-salad-summer-recipe/ Photos By: A Couple Cooks
5. Gluten Free Chicken Salad with Honey Orange Vinaigrette
This salad is great to bring to work for lunch. It is packed with protein and has everything we love, a little sweetness from the oranges and some savoury flavor from the chicken. YUM!
https://www.noshtastic.com/whole30-chicken-salad-orange-honey-vinaigrette/ Photos By: Noshtastic
6. Colorful Beet Salad with Carrot Quinoa and Spinach
My favorite color in the fruit and veggie rainbow is the color of beets! They're so beautiful and filled with tons of antioxidants. Fill up on this salad when you are sick of kale, and you won't be disappointed!
http://cookieandkate.com/2015/raw-beet-salad-with-carrot-quinoa-spinach/ Photos By: Cookie and Kate
7. Strawberry Caprese Farro Salad
I hadn't tried Farro until a few weeks ago, and it was a completely new texture. It doesn't get soggy with dressing and has a very neutral flavor, which makes it easy to flavor because it will acquire the flavor of whatever you mix with it.
http://www.abeautifulplate.com/strawberry-caprese-farro-salad/ Photos By: A Beautiful Plate
8. Strawberry Caprese with Pistachio Pesto
Isn't it so beautiful! Create this summery appetizer salad at a dinner party to impress your guests and fill them up with some wholesome ingredients.
http://www.howsweeteats.com/2015/06/strawberry-caprese-with-pistachio-pesto/ Photos By: How Sweet Eats
9. Southwest Roasted Potato Salad
BBQ-ing up a steak or chicken for supper? This salad is the perfect partner for a BBQ supper that will leave out the added mayo for potato salad and the added butter for corn on the cob. Dig In!
http://www.aberdeenskitchen.com/2016/05/southwest-roasted-potato-salad/ Photos By: Aberdeen's Kitchen
10. Shredded Summer Salad with Garlic Tahini Dressing
Pull out your phone and get ready to Instagram this beauty. It's so nutritious and ever so delicious! Top off with the home made garlic tahini dressing and you are good to go. Enjoy!
http://thegirlonbloor.com/shredded-summer-superfood-salad/ Photos By: The Girl On Bloor
Salads aren't just for those on a diet anymore. Properly made, they can be a filling and delicious meal.
When you think of summertime, what's the one fruit that stands out to you as THE fruit of the summer?
Hey Forkly Followers! As a writer at Forkly, I try to walk the walk when it comes to what I make at home.
Having a backyard garden is one of the amazing ways you can cut down on your grocery costs while filling your body with fresh,...
When everyone is back at school and extra curricular activities kick in, it can be difficult to find time to have an after school...
Looking for a meat-free alternative to a classic chicken salad sandwich? We've got it for you.
Finding the right protein bar that isn't packed with sugar and additives can be a difficult task.
Chickpeas are always thought of as the ingredient required to make hummus and a bunch of other healthy foods.
Suppertime can be the best time or a time of chaos and dread. Why?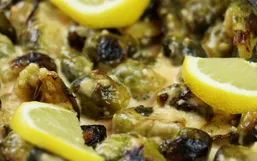 I remember when someone told me their favorite vegetable dish was Roasted Brussels Sprouts. I was not only shocked, but disgusted.
Cooking vegetables can be as simple or as complicated as you make it but at the end of the day, you want a delicious dish with the...
Have you been walking the grocery aisles and seeing "organic this, organic that"?