Adele, singer-songwriter and multi-Grammy winner has been making headlines for several years, mostly due to her incredible music but she's popping up in the headlines again and this time it's because of her jaw-dropping weight loss transformation. Adele posed for a photo at the Oscars 2020 after-party with Polish TV star, Kinga Rusin while wearing a skin-tight leopard-print dress and people can't help but notice her transformation. She almost looks unrecognizable.
 

View this post on Instagram

 
An Insider reported to People.com that Adele revealed she lost "something like 100 lbs". It's important to point out that Adele's weight loss journey hasn't been about losing weight, instead she made these lifestyle changes to be a better mom to her 7-year-old son, Angelo (whom she shares with her ex, Simon Konecki). The sole focus of her weight loss journey is all about how she can be healthier and how she can treat her body better. By following this motto, Adele cut down on drinking and started eating more real foods and because of this, she is more confident than ever!
Now the question we're sure most of you have, what is Adele doing to achieve these results? Insiders reported that Adele's weight loss is linked to increased physical activity through a personal trainer and a diet called the Sirtfood Diet. It is worth noting that Adele has yet to confirm the diet but, other well-known Brits such as Pippa Middleton, the Duchess of Cambridge's sister confirmed she has also experimented with the Sirtfood diet.
So what is the Sirtfood Diet? The Sirtfood diet was developed by two UK celebrity nutritionist, Aidan Goggins, and Glen Matten and is designed to kick start your metabolism. To do this you'll need to consume foods high in sirtuins. For those that don't know, sirtuins (SIRTS) are a group of seven proteins that are found in the body that have been shown to regulate metabolism, inflammation, and lifespan. The goal of the diet is to increase the level of these proteins in the body and to do this you'll need to consume "sirtfoods" (foods that contain these proteins). Some of the top sirtfoods include kale, buckwheat, walnuts, arugula, blueberries, coffee, and even red wine and dark chocolate. The combination of calorie restriction and a diet rich in sirtfoods should lead to rapid weight loss while maintaining muscle mass and protecting you from some chronic diseases. It is worth noting that this is a relatively new diet so there isn't much scientific evidence to back it up yet. But one thing is for sure, Adele sure has seen great success, if this is, in fact, the diet plan she has been following.
Want to learn more and read the Sirtfood Diet book for yourself?
Buy it: https://amzn.to/2OLVk10

And remember, always contact your healthcare professional before making any drastic dietary changes.
 

View this post on Instagram

 
Forkly.com is a participant in the Amazon Services LLC Associates Program, an affiliate advertising program designed to provide a means for sites to earn advertising fees by advertising and linking to Forkly.com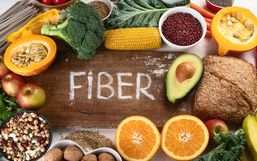 For some, healthy eating is no easy feat. The secret to being successful is to create a balanced approach that allows you to fill...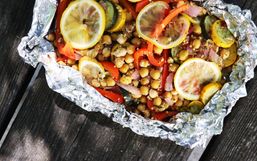 As someone who now eats a mostly plant-based diet, I've found myself stumped on how to enjoy BBQ meals this summer.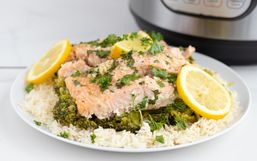 Fish is full of healthy fats, making it the perfect well-rounded dinner.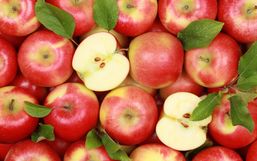 Bloating happens when the stomach becomes swollen after eating and that feeling is never a fun experience.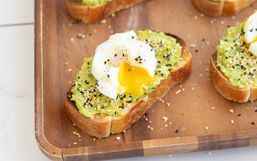 Breakfast is often called the most important meal of the day. It can also be the most delicious meal of the day!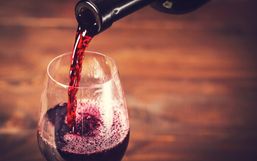 We've all heard it before "be sure to get a good night sleep". But do you know how important that statement really is?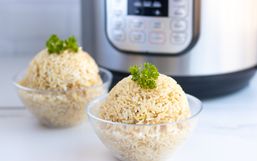 Rice is a staple in most people's homes, including mine! It's filling and the perfect complement to so many dishes, from meat...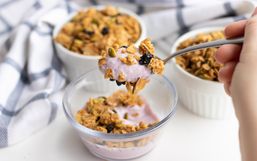 Granola is delicious breakfast food, whether it's with yogurt, milk (or non-dairy milk!), or on its own.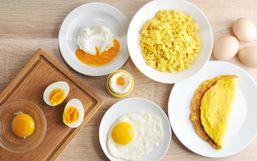 Here's the thing, we tend to put a lot of emphasis on what we shouldn't be eating but it's time the foods we really should be...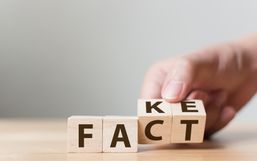 Have you ever gotten stuck falling, or diving head-first, down a rabbit hole of amazingly satisfying food videos on Facebook or...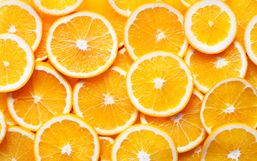 Surely you've heard the word antioxidant thrown around time and time again.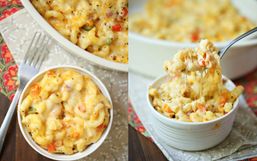 Weight Watchers has reinvented itself over the years and because of that, it is becoming more popular now than ever.