Canada Day is right around the corner and that means you're probably starting to plan your menu! In addition to all the savory goodies you'll be serving up, you'll want an array of sweets and treats. And boy have we got the best easy way to wow your guests! This marbled sugar cookie hack is as simple as can be, even if you have no experience as a baker! The marbling elevates these cookies in the best possible way without having to shell out some serious money at your local bakery. So let's get started!
Looking for apps instead? Check out these 40 Great Canada Day Appetizers!
Start by making your cookie dough, using a fun cookie cutter, baking your cookies and letting them cool completely. You can opt for a storebought sugar cookie mix or make your dough from scratch (which definitely makes it more work, but also makes it tastier!). We opted to use a storebought mix to save time.
Then it's time to make the royal icing! You may never have made it before, but don't be deterred – it's not difficult! Crack your room-temperature eggs and separate the yolks from the whites, discarding the yolks (or using them for something else). Make sure you don't get any of the yolks in the mixture.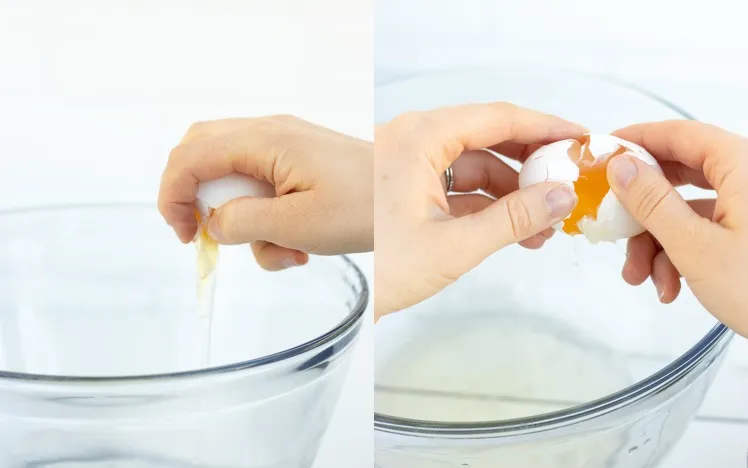 Add the lemon juice and icing sugar to the large bowl with the egg whites. Using electric beaters, beat on high for 7 to 10 minutes until soft peaks form. Alternatively, if you have one, use a stand mixer with the paddle attachment to cut down that time to 5-7 minutes. You'll know soft peaks have formed when you pull the (turned off) beaters from the mixture and the icing slowly "melts" back into bowl. Scrape down the sides of the bowl at this point and mix for another 15 seconds or so to remove any lumps.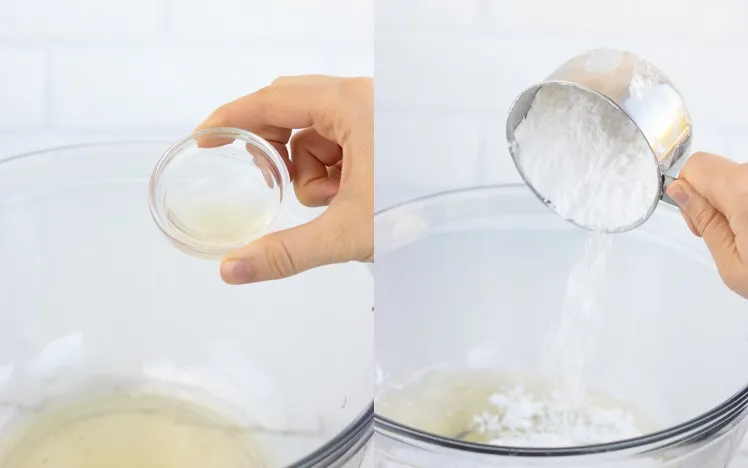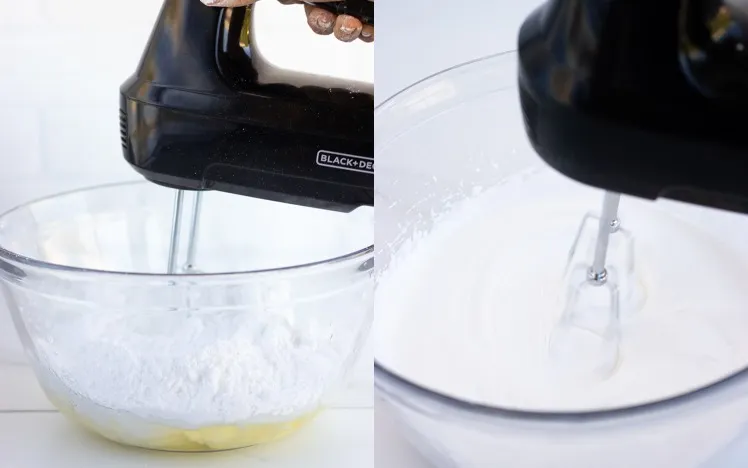 Once soft peaks have formed, you're ready for the next step. The mixture will definitely be too thick at this point – don't worry! Add water or more lemon juice (if you like a citrus taste) one teaspoon at a time and beat until it's thin enough to run off the beaters in a steady stream. Our mixture required roughly 4 teaspoons to get to the consistency we need. Scrape down the sides again.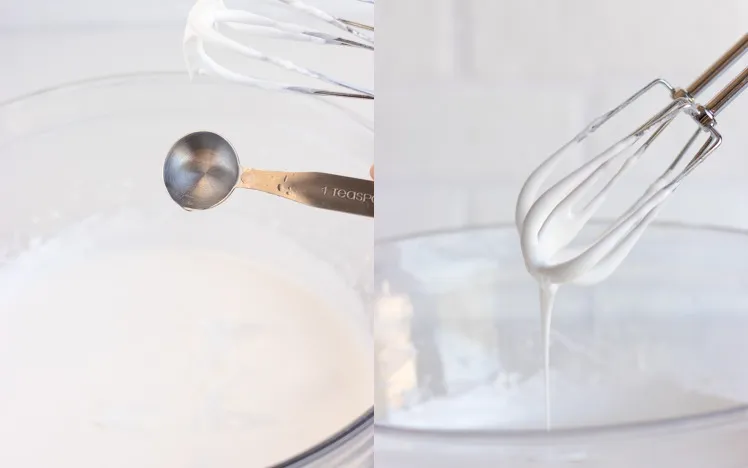 Now it's time to add in some color! Using red gel food coloring, zig-zag the red dye back and forth vertically and then horizontally over top. We used Witon dye and a toothpick, but if you have access to it or can grab some on Amazon, we suggest using Americolor Soft Gel Paste, as it has no taste, won't separate, and most importantly, won't affect the consistency of the royal icing. It also comes in a squeezable tube making it easier to get those perfect lines without having to use a toothpick.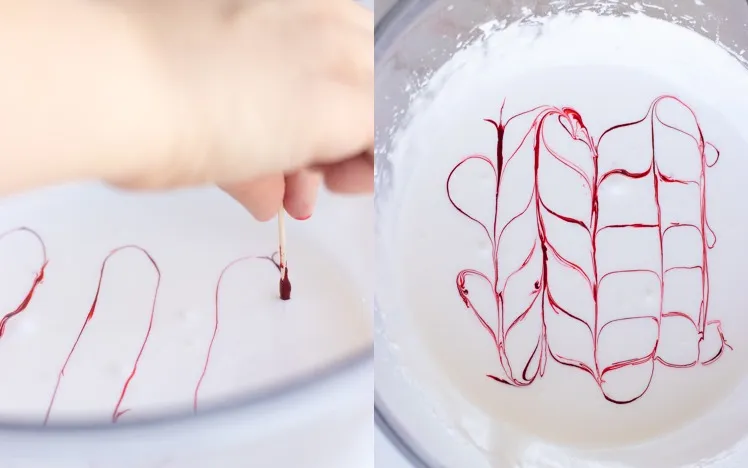 Dip each cookie into the icing slowly, carefully twirl the cookie while still in the icing (this is what creates the marbling effect), and pull straight up out of the icing. Hold the cookie a couple of inches up, allowing the excess icing to drip off before giving the cookie a quick twirl and flipping right side up. If there are air bubbles or the icing didn't fully coat part of the cookie, tap it against your hand or gently drop on the tabletop to release air. If necessary move a toothpick in very small circular movements to move the icing around and release any remaining air. Repeat for all of the cookies, using a different section of icing every time. If needed, repeat the red zig-zags on top.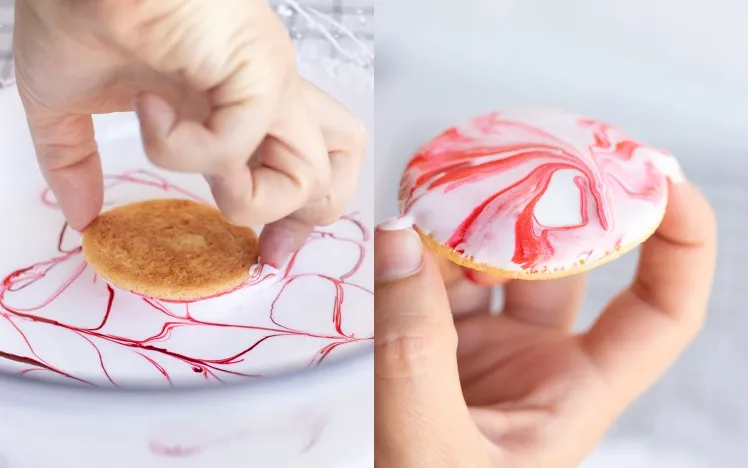 Place cookies on a wire cooling rack to dry overnight. Royal icing takes up to 24 hours to fully dry, but the cookies can be transferred to a container, unstacked need be. Don't worry about the cookie itself drying out – sugar cookies last a long time before going stale (think weeks!). If you stack them too soon (or plastic wrap them, for example), the icing will be ruined, so leave them be! After an hour or so, they'll start to look dry, but it's only a thin outer layer that has dried at that point.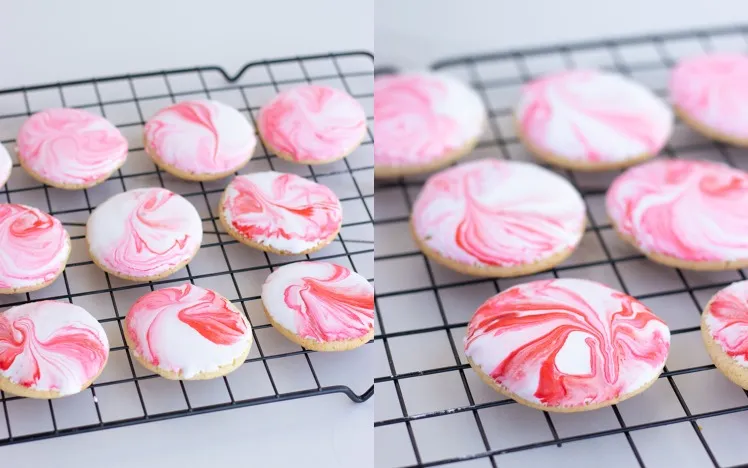 Every time you dip, the design will look different. Don't fight it – it's part of the beauty of these marbled cookies! So what are you waiting for? Time to get going on these beautiful marbled sugar cookies!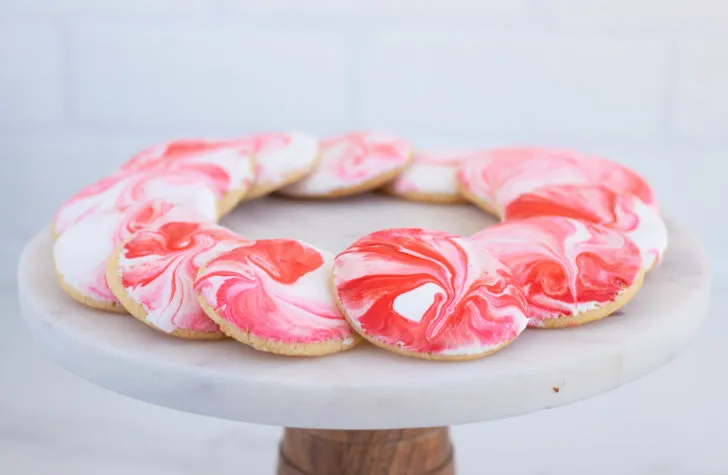 Ingredients
Sugar cookie dough
Red food coloring gel
4 egg whites, room temperature
2 tsp lemon juice
4 cups sifted icing sugar
Water, to thin
Equipment
Oven
Sheet Pan
Parchment Paper
Star cookie cutter, if desired
Electric Beaters or Stand Mixer
Toothpicks
Method
Roll cookie dough out until it's about ¼ inch thick. Use a cookie cutter of your choice (we used a circle to keep it simple) to cut the dough and transfer to a parchment paper lined sheet pan. Bake the sugar cookies according to package instructions. Remove from oven and allow to cool completely on a wire cooling rack.
Add the egg whites, lemon juice, and icing sugar to a bowl or the bowl of a stand mixer (which we suggest if you have one). Beat on medium-high until soft peaks begin to form, roughly 7-10 minutes with a stand mixer or slightly longer with a hand mixer, stopping to scrape down the sides if needed.
Once soft peaks form remove the beaters/paddle and scrape down the sides. The mixture will likely be too thick at this point, so add water 1 tsp at a time until it's thinned to the consistency of liquid honey. It should be thin enough that it drips off the spatula in a constant stream.
Remove the spatula from the bowl and carefully tap the bowl down on your counter a few times to drive any air bubbles out of the icing.
Using the red gel, zip zag the coloring back and forth across the surface horizontally and vertically, being sure to leave gaps between the lines where the white icing peaks through.
Dip the cookies one at a time, pressing them into the icing enough to coat the top and pulling them straight up out of the icing. Let them hover over the icing until the excess has dripped off, then with a slight swirl of your wrist flip them right-side up. Place back on the cooling rack to dry.
If there are air bubbles in the icing, carefully dip the tip of a toothpick into the bubble and use very small circular movements to force it out. Carefully tap the entire cookie on a hard surface (like your counter).
Once you've used every undipped area of the icing, redo the pattern of red gel coloring on top again. It will only add to the beautiful marbling effect!
Royal icing takes up to 24 hours to fully dry, but the cookies can be transferred to a container, unstacked need be. Don't worry too much about the cookie itself drying out - sugar cookies last a long time before going stale (think weeks!). If you stack them too soon (or plastic wrap them, for example), the icing will be ruined, so leave them be!
Notes
If you don't have a Canadian themed cookie cutter, no problem! These cookies will look just as beautiful if they're simple.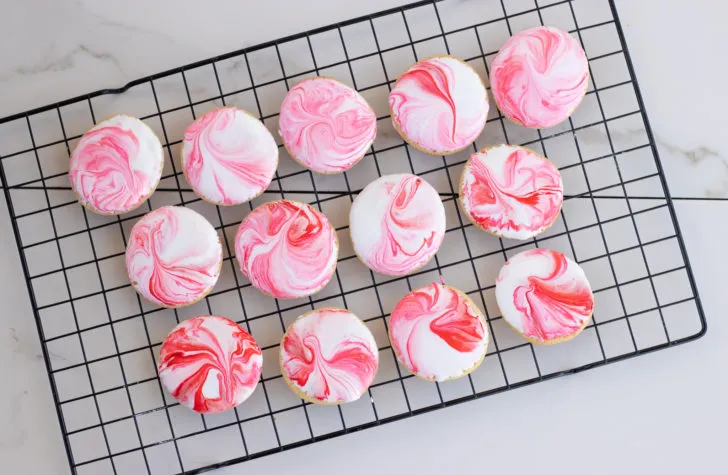 Canada Day weekend is almost here and what better way to celebrate it than with poutine!
The very special and much anticipated Canada Day weekend is approaching and we are starting to plan our parties!
I do not own much red in my wardrobe. In fact, the only red I DO own, is for one day only. That day, of course, is Canada Day.
Canada Day is one of the biggest holidays in the country. Every year, friends and families gather together to celebrate Canadian...
Canada Day is coming up and we can't wait to celebrate! But, what makes Canada so special anyway?
Disney parks may be temporarily closed but that isn't stopping them from helping you bring Disney's magic into your home.
Are you running out of ideas for lunch or feeling uninspired? Why not order your favorite foods and have them conveniently...
Summer is almost here and it's time to stock up your freezer with delicious treats to keep you cool all season long.
Good news Disney fans, the Disney Parks Blog is back again with another crave-worthy recipe you'll want to try this week!
Good news ice cream fans, Ben & Jerry's is back again with another crave-worthy flavor!
Good news Disney fans, Disney is back again and is sharing yet another coveted recipe that you can make at home!
National Donut Day is just a few days away but this year Krispy Kreme wants to extend the celebrations by making the holiday a...