Itching for a trip to Mexico? Even if it's not in the cards right now, you can still don a sombrero and get cooking one of our fabulously, spicy Mexican dishes.
The following eight Mexican-inspired dishes—from tacos to enchiladas, and from dips to chimichangas—will bring the fiesta right to your table…
1. Mexican Green Spaghetti
A dish that's quite popular in Northeast Mexico, this "spaghetti" is made with traditional flavors like diced poblano peppers, fresh cilantro, and Mexican style sour cream, than topped with the meat of your choice—pork, beef, chicken, or fish!
2. Mexican-Style Chicken & Corn Chowder
More "inspired" than traditional, this thick, hearty soup is a hodgepodge of Mexican flavors—plum tomatoes, green chilies, coriander, pinto beans and sweet corn. Serve it with a fresh baked stick of bread and you've got a super easy meal.
3. Mexican 7-Layer Dip
Planning a fiesta? Make sure to whip up a casserole dish of this Mexican-inspired dip. It's seven layers of refried beans, sour cream, tomato, guacamole, cheese, onions, olives, and blended with taco seasonings. Serve it with tortilla chips, crackers, or pita wedges for a true party hit!
4. Chicken Tacos with Chili Onion Rings
Bite into these spicy chicken tacos—complete with fiery ancho chili sauce and topped with crunchy onion rings as a Mexican-inspired garnish. The lean chicken breast is simmered in a fragrant garlic-lime marinade, sprinkled with fresh cilantro, and served in crunchy blue-corn taco shells.
5. Beef Tortilla Casserole
This baked casserole features everything zesty, spicy, and ooey-gooey good in Mexico—spicy beef, sautéed onion, layered flour tortillas, refried beans, green chilies, sour cream, salsa, and topped with shredded and melted cheddar cheese! Olé!
6. Chicken Tortilla Soup
This soup can be served up hot on cold days and served up chilled on days like today when your stomach can't handle something hot and heavy. But beware; it does have a kick—thanks to the jalapeno peppers, cumin, chili powder, and cayenne pepper!
7. Oven Baked Chimichangas
You might make these for Cinco de Mayo, but your family will be begging for them every single night of the week. What they don't know is that this crispy, crunchy, baked shell, jam-packed with delicious ground turkey, green chilies, and reduced fat cheese, is actually low in fat and calories.
8. Southwest Steak Enchiladas
This slow-cooker recipe can be prepared hours or even days ahead of a family gathering, party, or pot luck by combining lean steak, tequila, garlic, and a Serrano chili. Set things to slow cook and enjoy a margarita while you wait.
Mother's Day is just around the bend and Forkly is here to help make sure you have everything you need to make your mom feel...
Looking for delicious recipes to make your mom feel special this Mother's Day? You've come to the right place.
Mother's Day is quickly approaching and the HalfHourMeals countdown to Mother's Day is in full force today with 7 cool cupcake...
Mothers Day is the one day of the year when you can shower your momma with some serious love and spoil her like crazy!
Moms definitely deserve to be spoiled more than one day but when the day all about them comes around we have to make it extra...
Although Mother's really should be pampered every day for all they do, dedicating this special day for them is very important.
Mother's day is just around the corner and Bruegger's Bagels is helping you make the day special for mom!
Moms are wearing more hats this year especially with having everyone home more than usual.
There's no time like taco time! If you like a frequent fiesta, clearly you're no stranger to the mighty taco.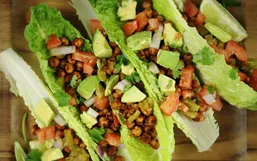 Several years ago in my early efforts to change my eating habits, I had a renewed mind to be more health-driven rather than just...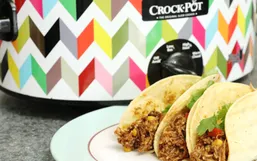 When it comes to an easy dinner, two words come to mind - CROCKPOT and LEFTOVERS (shame on you if you thought I was going to say...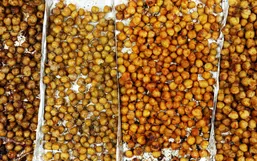 Chickpeas are an amazing plant-based protein that is easily seasoned and roasted to create an on-the-go healthy snack!