Cauliflower is one of the coolest, most versatile vegetables out there. It can be enjoyed raw, steamed, boiled and it can even turn into a low-carb substitute for mashed potatoes, pizza crust, and rice! Better yet, cauliflower is chock full of fiber and B-vitamins making it an excellent veggie to add to your diet more regularly. Well, buckle up friends because Chipotle Mexican Grill just announced that they will be testing new cauliflower rice at select restaurants!
Chipotle's new cauliflower rice is made with real, grilled cauliflower and features a delicious, fresh cilantro-lime flavor! The initial test will take place across 55 restaurants in Denver and throughout Wisconsin starting July 15, 2020. Chipotle fans located in the participating test locations will have a chance to try the Cilantro-Lime Cauliflower Rice for an additional $2. It'll be available in-restaurant and by digital orders through the participating locations. Let's all hope that this is a successful test because we think a nationwide rollout would be epic!
"To date, one out of three new menu item requests from Chipotle customers is for Cauliflower Rice," said Chris Brandt, Chief Marketing Officer. "We've answered the call from fans and created a better-for-you option that puts a delicious twist on our classic white rice recipe by using the same fresh cilantro and lime ingredients and culinary techniques."
Source: Chipotle
If you don't live near one of the participating test locations don't fret! You can try delicious cauliflower rice now with our low-carb Mexican cauliflower rice recipe! You may also enjoy trying our 10-minute healthy cauliflower "fried" rice recipe which tastes like your favorite takeout dish just with fewer carbs! Finally, be sure to check out these creative ways to cut carbs with cauliflower which features recipes from cauliflower pizza crust to cauliflower crusted grilled cheese. This impressive cruciferous vegetable really can do it all!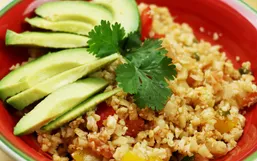 Not long ago we ventured into swapping cauliflower for rice while trying out the oh-so-popular ketogenic diet (read more about it...
Are you ready to "bend and snap"? Because that's exactly what you'll be doing after you order this Legally Blonde drink off the...
Summer is officially here and what better way to treat yourself and stay cool than with a refreshing beverage in hand!
Starbucks is not only renowned for their delicious coffee but they have a drink for everyone whether you're a chocolate fan or...
Disney theme parks and Disney Cruise Lines may be temporarily closed and suspended but that isn't stopping Disney from finding...
Hard seltzers have become the trendiest drink as of late and for good reason!
Your 4th of July celebrations may look a little different this year but that doesn't mean you still can't enjoy delicious food and...
Disney's theme parks are renowned for many things from the exciting rides to friendly characters, and of course its delicious...
Dunkin' is renowned for its coffee, tea, and delicious donuts but now the chain is entering a new drink category by offering new...
Starbucks' menu offers something for everyone from delicious coffee drinks to fruity beverages and even tasty food.
Summer is officially in full swing and now you can make the most of it with Shake Shack's new beverages!
Taco Bell is no stranger to innovative and exciting menu items.