Ok I'll admit it. I'm a little leery sometimes when it comes to mixing spicy and sweet, or savory & sweet, or even salty & sweet. But, I'm mature enough to admit when I'm wrong. This recipe had me a little curious to how it would turn out, and what exactly would be so amazing about it – knowing full well that I really just wanted to make a pineapple boat with some food inside. So maybe if it sucked, at least it would be cool to look at?
Well, it was much more than that. In fact, I skipped the chips and just started eating it with a spoon. So. Dang. Good.
A refreshing blend of the pineapple chunks, along with peppers and onion, jalapenos (just enough to give that kick) and some sriracha. While we served ours with tortilla chips, we were quick to realize that it would be SO amazing over grilled chicken breast, grilled tofu (yeah vegans, I got you!), or even some salmon. It's a perfect summer BBQ vibe we're all craving right about now.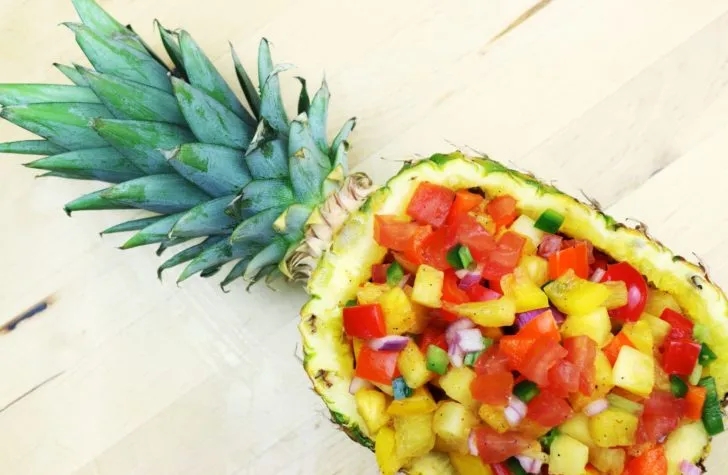 And did I mention how cool it is to look at? 😉
Ingredients
1 whole Pineapple, halved
1 cup Pineapple, diced (from 1 half of the fruit!)
1 cup Bell Peppers, diced
1 cup Roma Tomatoes, diced
1/4 cup Red Onion, finely diced
1 Jalapeno, seeded & diced *optional
1/4 cup Green Onion, diced
2 tbsp Sriracha sauce
2 tbsp Lime juice *optional
Salt & Pepper, to taste
Method
With a sharp knife, cut your whole pineapple in half. Set one half aside (or slice it up and eat it for a snack while you make the salsa).
Cut a "bowl" shape (about 1/2 inch minimum from the pineapple's edges) and scoop out the pineapple fruit. Discard the "core" area, and dice up the rest into small pieces. This should yield you 1 cup of diced pineapple chunks.
In a mixing bowl, combine all your diced ingredients (pineapple, peppers, tomatoes, onion & jalapeno). Toss, and add in lime juice, salt & pepper, and sriracha sauce.
Scoop the salsa back into the pineapple "bowl" and serve!
When it comes to preparing for a big date or event, we have so much to think about.
We get it, you invest in kitchen tools and want to make them last forever.
For those who have to deal with an anxiety disorder, they often have the constant feeling of uneasiness, worry and fear.
Meghan Markle has captured everyone's attention but not just because of her acting career, because of her new relationship and now...
When I first decided that I was up for the challenge of giving up coffee for a week, I had visions of myself by the end of it,...
By now we're all well aware that plastic pollution is a real problem, and it's not only impacting our oceans, but also the...
Containers are crucial for transporting food and liquids while we live our busy lives.
So disclaimer: I'll pretty much try anything that's new and plant-based at Starbucks.
This week was a taste of my own medicine, so to speak. Among my group of friends, it has become a running a joke that at a...
Do you remember the Canada's Food Guide rainbow that you would learn about in health class as a student? Who could forget it?
Summer is one of the most sought-after seasons of the year. If you experience cold winter months then you surely appreciate those...
Bloating happens when the stomach becomes swollen after eating and that feeling is never a fun experience.