Don't you wish that you could dump a bunch of ingredients into a pot and walk away and then return to a scrumptious supper? I think about that all the time. I haven't been a huge one pot meal person because I feel like everything comes out tasting like chili or soup. Until yesterday.
Yesterday I threw together this amazing unstuffed pepper casserole in my Instant Pot, and while I had to chop up a couple peppers and onions, it was a super low maintenance recipe. Once it was finished, I could not believe how delicious it was after only a few minutes of cooking in the Instant Pot!
Want New Instant Pot Recipes and Content Delivered Straight To Your Inbox? Sign up for our Instant Pot Email Newsletter!
The key to this recipe is to be creative. Use whatever you have in your fridge! The ingredients in this recipe is a great starting point, but you can add just about any veggie you'd like to make it even more delicious. You can also use ground turkey or chicken for a more nutritious twist on this meal.
We found that the final product really masks the appearance of veggies, so it's a great way to get your little ones to chow down on veggies without having to hear complaints about it!
If you've ever made stuffed peppers, they're so tasty but can take a little while to cook. With this recipe, we were truly surprised at how quickly it was ready. The saute setting on the Instant Pot allows you to cook your ground meat before adding the rest of the ingredients. As a result, the pot retains all that tasty flavor the meat has created which contributes to the flavorful finished product.
As for added toppings, I would be inclined to sprinkle mozzarella cheese on top with some parsley as we have done in these photos. If you want to get even more creative, you can slice up some fresh avocado for added omega-3 fatty acids – which you can never get enough of!
Ingredients
1 tbsp olive oil
1 lb lean ground beef
1 small yellow onion, diced
1 tbsp minced garlic
1 tbsp chili powder
1/2 tbsp paprika
1/2 tsp red pepper flakes (optional)
Salt & pepper
2 large bell peppers, diced
1/2 cup white rice
14 oz. diced tomatoes (Fire-roasted tomatoes will add lots of flavor!)
8 oz. tomato sauce
1/2 cup chicken or beef broth
2 tbsp worcestershire sauce
1 cup shredded mozzarella cheese, plus more for serving
Parsley (for garnish)
Method
Turn the Instant Pot to Saute mode. Add olive oil, ground beef, onion and garlic.
Once browned, turn off Saute mode and drain fat (if needed).
Add the bell pepper, diced tomatoes with juice, tomato sauce, broth, rice, Worcestershire sauce, chili powder, paprika, red pepper flakes (if using), salt, and pepper - in that order.
Place the lid on the Instant Pot and turn the valve to sealing. Cook on Manual HIGH for 5 minutes.
Once cooked, allow for a 10 minute natural release, then quick release any remaining pressure.
Remove the lid, sprinkle 1 cup of cheese on top, and lid the Instant Pot with the valve sealed for 5 minutes to melt the cheese.
Once time has elapsed, remove the lid and serve in bowls, topped with additional shredded cheese and parsley. Enjoy!
Notes
It took our 6 Quart Pot Duo 13 minutes to come to pressure but this will vary depending on the model and size of your Instant Pot.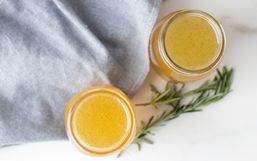 Bone broth is all the rage nowadays with health professionals proclaiming the benefits and people (and companies looking to...
It seems like everyone and their best friend has an Instant Pot these days.
Everyone and their besties have an Instant Pot pressure cooker these days, and if you don't have one yet, you really need to get...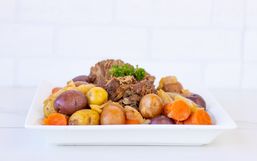 Roast beef is one of those meals that's an oldie but a goodie. If you have company coming over for supper - it doesn't matter who...
I love Easter because it's the first holiday that really signifies that spring is here!
The 4th of July holiday indicates that summer is here. On this patriotic holiday friends and family gather together to play games,...
The holidays are a busy time of year, between hosting guests, planning a dinner, and catering to everyone's needs it can get...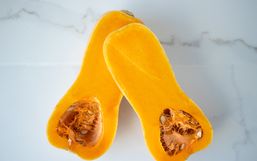 How many times have you pulled out your butternut squash just before supper and realized you don't have enough time to cook it...
Quick and easy dinners are often a goal for so many, but that doesn't always mean it's healthy, too.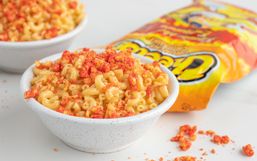 There is no comfort food like mac and cheese - the carbs and cheese are oh so delicious!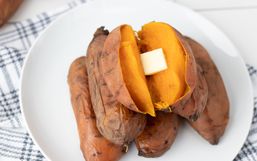 The thing about root vegetables is that they often take a lot of time to cook, especially in the oven.
The holiday season is busy, between decorating for Christmas, hosting parties, buying and wrapping gifts it can all be...