You can never go wrong with a side of cornbread. It's soft, crumbly, sweet, and savory and the smell of it baking in the oven is enough to get your tastebuds excited. These pillowy yellow squares are awesome because you can enjoy them as a snack (smothered with butter, of course) or you can enjoy them as a side dish with your favorite family meal. That said not everyone enjoys making it from scratch. Luckily for us, Pillsbury is making it easier for us to enjoy this Southern classic with the all-new Cornbread Swirls.
New Pillsbury Cornbread Swirls are the easiest (and fastest) way to make homemade cornbread with minimal mess! The new cornbread swirls come in a circular package just like Pillsbury's iconic cinnamon rolls. Once you open the package simply separate the swirls, place them in a greased muffin tray and bake them in the oven! They require just 13 to 17 minutes to cook and in no time you'll have six luscious cornbread swirls to enjoy with your next meal!
Source: Pillsbury
According to Pillsbury's website, "Pillsbury Cornbread Swirls are the easiest way to home baked cornbread, with minimal mess and prep time! These delicious Cornbread Swirls are the perfect addition to your family meal — as a side or as part of a tasty recipe."
You can find Pillsbury products in the fridge aisles in major retailers so keep your eyes peeled for this new, delicious product the next time you're out! You can also learn more on Pillsbury's website.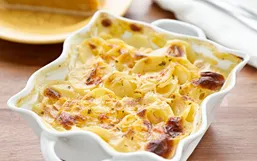 The Thanksgiving holiday brings families near and far together to enjoy delicious food.
Are you ready to "bend and snap"? Because that's exactly what you'll be doing after you order this Legally Blonde drink off the...
Summer is officially here and what better way to treat yourself and stay cool than with a refreshing beverage in hand!
Starbucks is not only renowned for their delicious coffee but they have a drink for everyone whether you're a chocolate fan or...
Disney theme parks and Disney Cruise Lines may be temporarily closed and suspended but that isn't stopping Disney from finding...
Hard seltzers have become the trendiest drink as of late and for good reason!
Your 4th of July celebrations may look a little different this year but that doesn't mean you still can't enjoy delicious food and...
Disney's theme parks are renowned for many things from the exciting rides to friendly characters, and of course its delicious...
Dunkin' is renowned for its coffee, tea, and delicious donuts but now the chain is entering a new drink category by offering new...
Starbucks' menu offers something for everyone from delicious coffee drinks to fruity beverages and even tasty food.
Summer is officially in full swing and now you can make the most of it with Shake Shack's new beverages!
Taco Bell is no stranger to innovative and exciting menu items.