This is a crisp and crunchy slaw that is infused with Asian flavors, and a little kick of spice from that oh-so-incredible sriracha sauce. We based this recipe with sliced Brussels sprouts, shredded rainbow carrots, and green onions. Then tossed in a maple-soy and sriracha dressing, mixed with slivered almonds and sesame seeds, it's then topped with crushed ramen noodles (you know the kind you survived your early adulthood days on? yeah, that kind!) giving extra crunch in each bite. You'll find this recipe will be a go-to for picnics and patio parties as it's easy to create and enjoy day after day sided by some delicious barbecue foods. Keep this recipe handy when you bring it to parties, because you're going to be dishing out the deets to everyone who tastes it.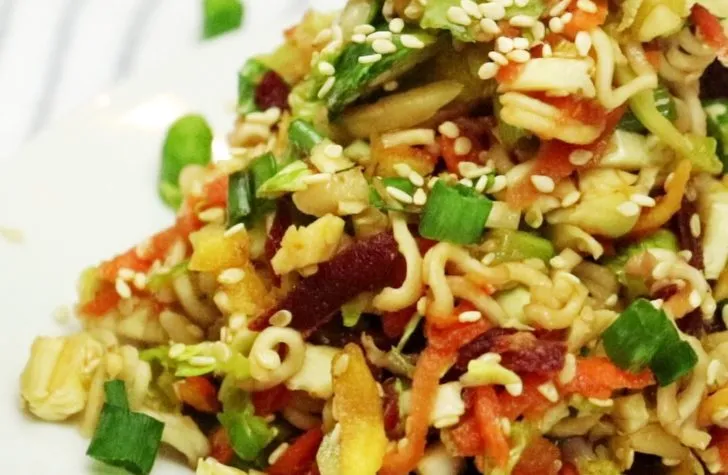 Ingredients
1 lb Brussels sprouts, thinly sliced/shaved
4 large carrots, grated
2/3 cup chopped green onions (plus extra for garnish)
2/3 cup slivered almonds
1/4 cup sesame seeds (plus extra for garnish)
5 tbsp olive oil
1/4 cup apple cider vinegar
1/4 cup maple syrup
1/4 cup tamari soy sauce
1 tbsp sriracha sauce (or more if you prefer spicier!)
1 pkg single serving ramen noodles, crushed (about one cup)
Method
Once all your sprouts, carrots and onions are sliced, shredded and chopped, add them all into a large mixing bowl, and mix together.
Add in slivered almonds and sesame seeds, mix again.
Add olive oil, apple cider vinegar, maple syrup, tamari soy sauce, sriracha and toss until evenly coated.
Add crushed ramen noodles, uncooked and crunchy (but if you've bought a ramen soup mix, just add the noodles, not the packs of flavoring they come with!). Mix until all the ingredients are incorporated.
Serve, topped with additional green onions and sesame seeds.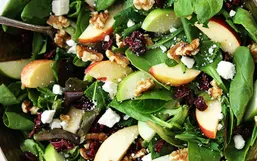 Fall is an amazing time for home cooked food. You can still get summer vegetables, but you also get the benefit of fresh Autumn...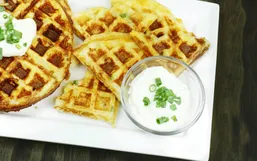 We've all been there, after a holiday dinner that you slaved and prepared for the masses and you have leftovers.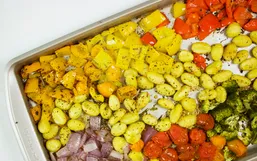 You definitely don't have to be Italian to enjoy gnocchi. Those pillowy dough-balls melt in your mouth and are delicious no matter...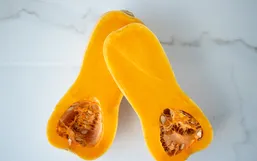 How many times have you pulled out your butternut squash just before supper and realized you don't have enough time to cook it...
Many of us are trying to lose weight and live healthier lifestyles but it is no easy feat. We get it!
Are you tired of making the same meals over and over again? Perhaps you're feeling uninspired in the kitchen.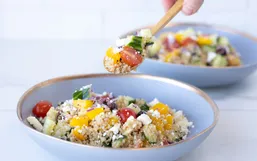 Enjoy the fresh flavors of Mediterranean cooking that will have you dreaming of lounging next to the sea without having to fly...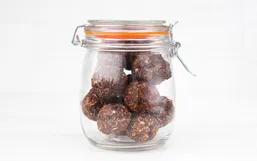 You've probably been seeing recipes for no-bake snack/energy bites online for a few years now. I know I have!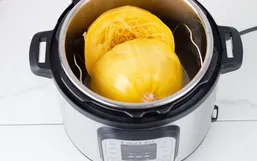 While I don't love all vegetables, I am definitely up for trying new things (at least once).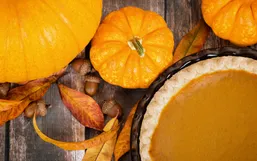 When I think about pumpkins I often find myself reminiscing or wishing it was the season of Fall.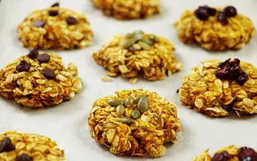 When we think of pumpkins we are often quick to bring our minds to fond memories of pies, lattes and carvings, right?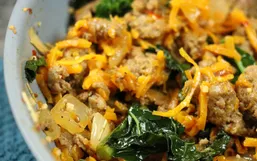 First things first, do you own a spiralizer? If you don't, now's the time to scoop one up. Go ahead, "add to cart"...