I grew up with an amazing Mother who would do everything with themes. From birthday gifts, to seasonal decor, and even meals. We always knew around a new season it was time to think of ways to be "festive" and as themed as possible when making anything to serve. It truly made life just a little more fun.
Making this cheese ball brought me right back to my childhood. Knowing full-well that this would be something my Mom would do to take a classic and simple recipe, and add that themed element to it. Thankfully, this theme only takes a few elastics (I'll explain).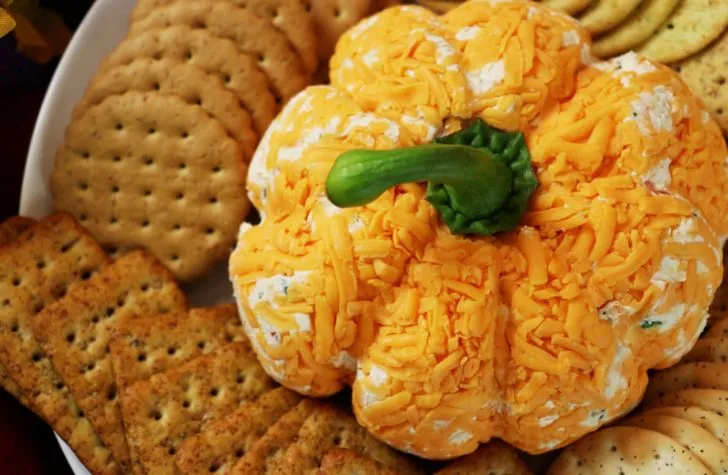 If you're hosting Thanksgiving, Hallowe'en or Fall themed event, this is a truly adorable and delicious appetizer for your guests to enjoy it. Plus, major bonus points on how impressive it looks (never mind the fact that yes, it's still just the addition of elastics).
Oh, and it's a cheese ball…so it's mighty delicious, too.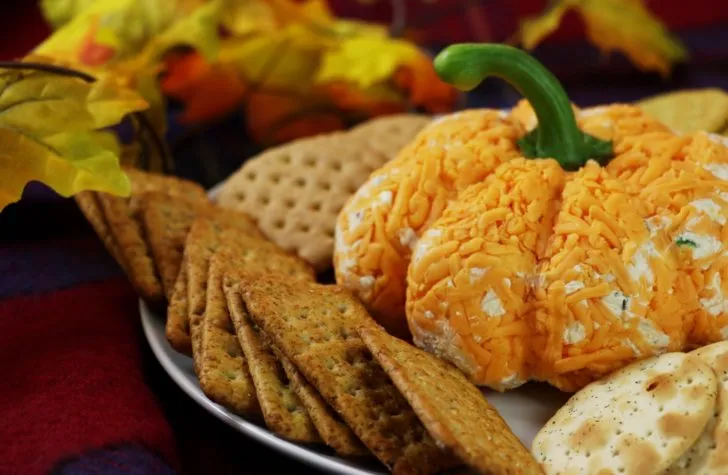 Ingredients
1 8oz block Cream Cheese, room temperature
1 8oz container Vegetable or Herb Cream Cheese
2 tbsp Powdered Ranch Seasoning
1/4 cup Green Onions, chopped
1/4 cup Red Pepper (keep that green stem!)
2 cups Cheddar Cheese, shredded (1 cup for inside the cheese ball, 1 cup to coat it)
Equipment
Mixer
Mixing Bowl
Plastic Wrap
4 Rubber Bands/Elastics
Method
In a mixing bowl, combine your cream cheeses until smooth. Stir in the ranch seasoning, green onions, red pepper and 1 cup of cheddar cheese.
Lay out plastic wrap, and in the centre place some of the cheddar cheese shredding. Scoop the cheese ball mixture into the centre and begin creating your ball form coating with the rest of the cheddar cheese on all sides.
Once you're happy with how coated the ball is in shredded cheddar, wrap it up completely with your plastic wrap, and continue to shape it into a ball form. Then, wrap it again with a second layer of plastic wrap to ensure it's contained well, and held in tightly.
Next, place 4 elastics around the ball to create a pumpkin shape. Refridgerate for 2-3 hours or overnight. Double up the elastics if you need them to be tighter to create the form you'd like.
Remove from fridge, and cut off the elastics and remove the plastic wrap. Place it in the centre of your serving platter, and surround with serving crackers. Place the stem top from your red pepper in the centre of the cheese ball, and serve immediately!
We've all been there, buying a whole can of pumpkin puree for a recipe that requires maybe half a cup of the stuff.
When carving pumpkins, it's an absolute disgrace to toss all those pumpkin seeds with the guts. A DISGRACE!
Pumpkins are a wonderful ingredient. They are good in both savory and sweet applications.
Hosting a potluck or going to a potluck is a wonderful way to enjoy the company of many without the pressure of having to cook an...
It's that time of year when we ditch the elegant and cute desserts, for something a little more...gory.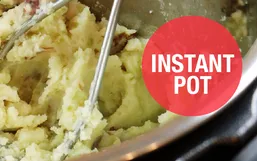 When it comes to making mashed potatoes, one word may enter your mind..."tedious".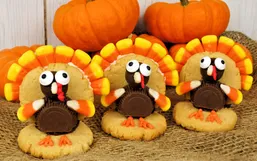 I love holidays because it gives everyone a chance to unwind and spend quality time with those you love.
Like many holidays, Thanksgiving is an opportunity to spend quality time with friends and family.
Holidays are the hardest times of the year to stay on track with your diet.
When I made the decision to adopt a plant-based diet I had many comments from friends saying things such as "I wish I could but...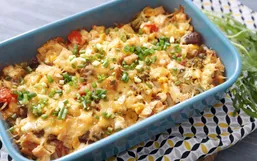 After all the hours and hard work you put into Thanksgiving dinner, it's eaten within half an hour and you're left with a ton of...
Halloween is a great time to have the excuse to do what you love - dressing up your pet hilariously.