We all know that deviled eggs are a bit of an Easter staple food. They're easy and inexpensive to make and serve up impressively. They're truly a holiday favorite.
We wanted to bring the deviled eggs to the dessert table. A finger food dessert that could be served up to kids and adults alike with a Spring-colored treat that everyone will love.
What's great about a Jell-O recipe like this, is you can even opt for the sugar-free variety, which is perfect for those who are on the Ketogenic diet!
Simply using a plastic deviled egg carrier (we found them at the dollar store) you have a mold to make these yourself easily!!
Topped with a few Easter-y sprinkles, these little cutie treats are going to be the star of the dessert table.
TIP: We recommend topping them with Cool Whip just before serving, and they should hold in good condition for about an hour of serving time! But, we doubt they'll make it that long.
Ingredients
4 packets of colored Jell-O (can sub for sugar free)
2 cups boiling water
4 tablespoons Cool Whip, thawed
Cool Whip, spray can
1 tbsp round rainbow sprinkles or colored sugar
Equipment
4 mixing bowls
2 deviled egg trays
Method
Start with 4 bowls, each with one color/flavor of Jell-O powder emptied into each.
Add 1/2 cup of boiling water to each, and stir until dissolved.
Next, add a dollop of Cool Whip to each bowl to give it a semi-opaque appearance and mix until dissolved.
Pour each color individually into your egg trays, one at a time.
Set the tray in the fridge for 1-2 hours or until set.
Before serving, top each with a dollop of Cool Whip (spray can, pipe or spoon on) then sprinkle with some Spring colored rainbow sprinkles! Enjoy 🙂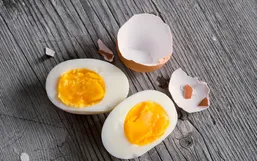 Wondering how to hard boil your eggs? You're not alone. Terms like "How to Hard Boil Eggs" and "Hard Boil Eggs Time" are some of...
Today is National Margarita Day and we want you to celebrate this special occasion with 5 of the tastiest and most delicious...
Breakfast is the most important meal of the day – that's why it's essential that you have cool, fun and healthy Easter...
When we released our 10 Cute Easter Cupcake Ideas for Kids we received such an overwhelmingly positive response that we've...
Looking to make Easter fun and memorable for your kids? We've scoured the web for the best and coolest food ideas!
Looking for ways to make this Easter special for your kids but don't have countless hours to waste baking extravagant treats and...
The Forkly countdown to Easter continues today with 7 healthy Easter dessert recipes that will top off your fantastic dinner with...
As Easter quickly approaches, the search for easy deviled egg recipes becomes more and more popular.
Silk tie Easter eggs are quickly becoming the coolest and most innovative way to decorate eggs this time of year.
Are you looking for delicious little treats to make for your family and friends this Easter?
Easter is just a few weeks away and many parents are searching online for great ways to make this holiday fun for kids.
Planning an amazing Easter dinner for your family and friends this year?