Have you ever gone out for supper, eaten the best food you could think of and then crave it for weeks to come? It's so hard to recreate the meals that we order, and then try to figure out what the secret ingredients are to making it simply irresistible. We've rounded up a list of absolutely crave-worthy restaurant foods that have been finally figured out at home. Try out these recipes and you'll feel like you are eating at your favorite restaurant! Don't see your favorite food on this list? Comment the restaurant meal or item you crave most when you are at home and we will do our best to find a recipe that can best recreate the flavor for you. No more dining out every week, the key is to use those secret ingredients at home.
1. Panda Express Bejing Beef
This is the kind of food my husband wishes I could make him every single night. The problem is, I never know where to start! Is it the sauce that makes it so delicious, or the way the meat is cooked? With this recipe, I don't think I'll be able to go wrong when I make this for supper.
http://dinnerthendessert.com/panda-express-beijing-beef-copycat/ PHOTOS AND RECIPE HERE: Dinner Then Dessert
2. Red Robin Smokey Sweet Cherry Pepper Cheeseburgers
Food Photography really can make any kind of comfort food look beautiful! These images have captured one of the most craved burgers around from Red Robin. Well, crave no more because this burger can be made any night you'd like – by you!
http://www.howsweeteats.com/2014/07/smoky-sweet-cherry-pepper-cheeseburgers-aka-my-trashed-up-smokeshack/ PHOTOS AND RECIPE HERE: How Sweet It Is
3. Cinnabon Cinnamon Rolls
These mouth watering treats will have you rising and shining without hitting the snooze button once! Host a delicious brunch for friends, or serve your sweetie breakfast in bed with these incredible rolls!
http://www.jocooks.com/bakery/breads/cinnabons-cinnamon-rolls/ PHOTOS AND RECIPE HERE: Jo Cooks
4. Chipotle Chicken Burrito Bowl
I want to eat this everyday! This burrito bowl is a perfect lunch meal to pack at the beginning of the week, or to serve at suppertime. It's colorful, healthy, and so flavorful! You'll be craving your own version of this meal soon enough.
http://gimmedelicious.com/2014/02/09/chipotles-chicken-burrito-bowl-with-cilantro-lime-rice/ PHOTOS AND RECIPE HERE: Gimme Delicious
5. Panera Broccoli Cheese Soup
On a rainy day, everyone wants some Panera Soup to warm their souls! Skip your Wellies and Rain Jacket and make this recipe in the comfort of your own home. Once it's done, snuggle under a blanket and binge watch some Netflix. A perfect rainy day!
https://www.averiecooks.com/2015/01/best-broccoli-cheese-soup-better-panera-copycat.html PHOTOS AND RECIPE HERE: Averie Cooks
6. Krispy Kreme Glazed Doughnuts
This recipe can be used and customized for a fun party dessert or just for whenever you're craving a whole pile of sugar that is made with love. For yourself.
http://www.cookingclassy.com/copycat-krispy-kreme-doughnuts/ PHOTOS AND RECIPE HERE: Cooking Classy
7. Red Lobster Coconut Shrimp with Pina Colada Sauce
Blow your guests away with this amazing party plate of restaurant quality shrimp and dip. It will have your guests asking for seconds and thirds…maybe just serve it as an entree!
http://www.cinnamonspiceandeverythingnice.com/red-lobsters-parrot-bay-coconut-shrimp-with-pina-colada-sauce/ PHOTOS AND RECIPE HERE: Cinnamon Spice and Everything Nice
8. Starbucks Caramel Frappuccino
On a hot day, this expensive drink will take an unfortunate chunk of money out of your bank account just to cool you down. Skip the long Starbucks line and the $5 drink – make this identical recipe at home and you won't be disappointed.
http://www.centercutcook.com/starbucks-caramel-frappuccino-copycat/ PHOTOS AND RECIPE HERE: Center Cut Cook
9. Cracker Barrel Biscuits
SO YUM. These Biscuits are hard to resist, so sometimes, just don't resist! They're oh so good and can be paired with a hearty home cooked meal or with a cup of tea!
http://www.frugallyblonde.com/2015/09/cracker-barrel-biscuits/ PHOTOS AND RECIPE HERE: Frugally Blonde
10. Shake Shack Burger
Yup! This is the recipe we have all been waiting for! Make your #1 most craved meal a reality at home – it's so scrumptious and filling, you'll think you are actually sitting at Shake Shack!
http://iamafoodblog.com/best-burger-recipe/ PHOTOS AND RECIPE HERE: I Am A Food Blog
11. Williams Cafe Rice Box
A Canadian favorite, these Rice Boxes are super healthy, and incredibly delicious. Add some roasted red pepper and portobello mushroom to take it to the next level. No meat required!
http://chelseashealthykitchen.com/2015/04/27/black-bean-rice-bowl-with-garlic-yogurt-sauce/ PHOTOS AND RECIPE HERE: Chelsea's Healthy Kitchen
12. McDonald's Big Mac
What is a better cheat day meal than a Big Mac? Skip all those gross preservatives and make an even better version at home! Some home made fries will accompany this amazing dish perfectly!
http://thegirlonbloor.com/homemade-big-mac-recipe/ PHOTOS AND RECIPE HERE: The Girl On Bloor
13. Easy Copycat Big Mac Sauce
Let me tell you, it's mind-blowing how much this tastes like the real deal. There is absolutely no mistaking it! Whether you're trying to recreate a Big Mac at home (with cleaner ingredients and on the cheap!) or you just want a tasty sauce to dress up your dinner that isn't just ketchup, we've got you covered with this easy Copycat Big Mac Sauce.
http://www.forkly.com/recipes/copycat-big-mac-sauce/ PHOTOS AND RECIPE HERE: FORKLY
14. Easy 5-Ingredient Copycat Wendy's Frosty
We love a good copycat recipe here at Forkly and this Wendy's chocolate frosty is no exception. All you need is five simple ingredients and we promise you'll get an exact replica of a good ole' Wendy's Frosty! You'll be making this recipe over and over again this summer!
http://www.forkly.com/recipes/easy-5-ingredient-copycat-wendys-frosty/ PHOTOS AND RECIPE HERE: FORKLY
If there's one thing I never feel guilty about buying it's cookbooks, after all they serve a pretty important purpose right?
Let's face it, Starbucks is highly addictive. With their long lists of beverages and delicious meals and snack bar, they have...
Growing up fast food visits were some of the most exciting dinners my siblings and I looked forward to.
Purchasing boxed/bagged food products from the grocery store is convenient, however, I truly believe nothing compares to the...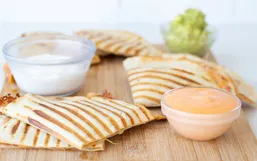 One of my favorite takeout meals is burritos. I love that you get to totally customize a burrito to your liking - from the...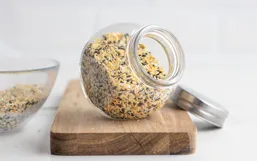 Trader Joe's is known for several popular grocery staples. Among them is their famous Everything But the Bagel Sesame Seasoning...
Summer is the most anticipated season of the year! We can enjoy the outdoors, dig into delicious BBQ, and of course, indulge in...
Many of us start our day with a trip to Starbucks and fuel our day with a cup of coffee.
What is your biggest challenge when you start a new diet? For me, it's sugar. Forget the deep fried food - I can skip that.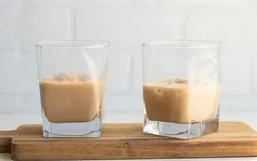 Bailey's Irish Cream anyone? So delicious. Irish Cream Liqueur is a summer drink staple, whether it's in your coffee at the...
When planning a Disney vacation it's important to plan a well thought out itinerary.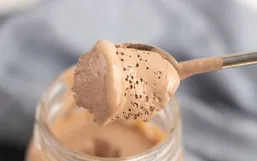 We love a good copycat recipe here at Forkly and this Wendy's chocolate frosty is no exception!