Summer is the most anticipated season of the year! We can enjoy the outdoors, dig into delicious BBQ, and of course, indulge in Starbucks delicious summer menu! Take a moment and think about all of your Starbucks visits. While it's fun to indulge every once in a while, frequent visits can put a big strain on your wallet.
We dove deep into the internet to find you copycat versions of Starbucks popular summer drinks and a few yummy treats you can eat too! Save yourself some money this summer and give these amazing Starbucks copycat recipes a try. Saving money doesn't mean you have to sacrifice your favorite summer treats.
1. Copycat Unicorn Frappuccino
The Unicorn Frappuccino went viral and there is no question as to why. It's stunningly vibrant colors and sweet flavor won the hearts of many! However, it comes with a hefty price tag and loads of sugar.
This copycat recipe will not only save you money but seriously cuts back on the amount of sugar too. It's dairy-free, refined sugar-free, and naturally tinted to look like the real deal! Everyone will go crazy for these and you can serve them up guilt-free!
http://brookelark.com/blog/2017/4/20/unicorn-frappe-starbucks-copycat-all-natural-color-no-sugar-added PHOTOS AND RECIPE HERE: BROOKE LARK
2. Copycat Mango Dragonfruit Refresher
For the fraction of the cost, you can recreate your own Mango Dragonfruit Refresher. This lovely beverage will surely quench your thirst and satisfy your sweet tooth this summer.
To replicate this drink, you'll need simple ingredients such as Crystal Light Peach Mango drink mix, dragon fruit drink mix, and a sweetener of your choice! For aesthetic, garnish the drink with fresh mango and or dragonfruit and serve over ice.
https://darlingtomboy.com/food/starbucks-mango-dragonfruit-refresher PHOTO AND RECIPE HERE: DARLING TOMBOY
3. Copycat Strawberries and Creme Frappuccino
Starbucks has many different flavors of frappuccinos. After all, these delicious blended drinks are perfect for summer! Among the long list of choices is their ever so popular Strawberries and Creme Frappuccino. Make it at home using this easy recipe!
It's made with loads of sweet ingredients such as vanilla ice cream, fresh strawberries, and a few other ingredients. It's truly a sweet treat and would be a lovely dessert to enjoy with friends!
https://www.frugalcouponliving.com/copycat-starbucks-strawberries-creme-frappuccino/#_a5y_p=3672155 PHOTOS AND RECIPE HERE: FRUGAL COUPON LIVING
4. Starbucks Copycat Cold Brew Coffee with Sweet Cream
During the summer, It's refreshing to trade our hot coffees for iced coffees. Starbucks is famous for its delicious cold brew coffee but this recipe proves that you can make it at home effortlessly too!
To achieve that rich bold coffee flavor that we love, it's important to steep the coffee for up to 24 hours. With that said, be sure to prep this tasty beverage the day before! In addition to the coffee, you'll also be provided with an irresistibly sweet cream recipe that seriously enhances the flavor of this drink.
http://www.priyacreates.com/food/starbucks-copycat-cold-brew-coffee-vanilla-sweet-cream/?uaid=pinterest PHOTOS AND RECIPE HERE: PRIYA CREATES
5. Copycat Passion Tea Lemonade
Starbuck's Passion Tea Lemonade may be available all year round, but it does remind me of summer! This refreshing beverage is the perfect balance of tangy and sweet!
You'll be happy to know that this easy copycat recipe requires just 5 simple ingredients, and one of those ingredients is water! You'll need to steep the tea first and then refrigerate for at least an hour. Then simply combine the tea with lemonade, pour over ice, and enjoy!
https://cincyshopper.com/copycat-starbucks-passion-tea-lemonade-recipe/ PHOTOS AND RECIPE HERE: CINCY SHOPPER
6. Starbucks Copycat Lemon Loaf
This lemon loaf is truly a breath of fresh air! Enjoy Starbuck's famous lemon loaf any time of the year and save yourself some money with this recipe!
Vibrant lemon flavors compliment the incredibly sweet icing and together they create a luxurious treat. In addition to the lovely flavors, this loaf is easy to prepare too.
https://www.yellowblissroad.com/starbucks-copycat-lemon-loaf/ PHOTOS AND RECIPE HERE: YELLOW BLISS ROAD
7. Starbucks Copycat Birthday Cake Pops
Another popular Starbucks treat is their delicious cake pops! They make several different flavors, hower, their Birthday Cake Pops are among the most popular!
This recipe proves that with a few simple ingredients such as a box of white cake mix and frosting, they can be easily prepared at home! They're perfect for wedding showers, birthday parties, or to treat yourself!
https://simplyhomecooked.com/vanilla-cake-pops/ PHOTOS AND RECIPE HERE: SIMPLY HOME COOKED
8. Starbucks Copycat Pink Drink
Starbucks Pink Drink is a serious Instagram-worthy beverage! It's soft pale pink color and fresh berry infusion is worth all the hype!
Make this copycat version at home to not only save money but to customize the sweet flavor to your liking. If you enjoy Starbucks sweet version the recipe recommends adding in agave nectar, however, if you enjoy your beverages slightly more tart you can omit this ingredient – your choice!
https://www.nutmegnanny.com/homemade-starbucks-pink-drink/ PHOTOS AND RECIPE HERE: NUTMEG NANNY
9. Copycat Violet Drink
If you spend hours on social media like the rest of us, I'm sure you've heard of the Purple Drink! Many were ordering this delicious drink from the not-so-secret Starbucks menu until now that is! This summer Starbucks launched the drink to their official menu naming it the Violet Drink!
With this recipe, you can indulge in this tasty drink without having to get out of your jammies by making it at home! It only requires 4 simple ingredients and 5 minutes of your time.
https://www.theculinarycompass.com/copycat-purple-drink/ PHOTOS AND RECIPE HERE: THE CULINARY COMPASS
10. Copycat Matcha Lemonade
The matcha lemonade is the perfect combination of an afternoon pick me up and thirst quencher! This delicious drink combines energy-boosting matcha tea with tangy lemonade.
The recipe proves how effortlessly you can make it at home! It's made from fresh ingredients such as juice of a lemon, sweetened with a dash of sugar and poured over ice.
https://www.ohhowcivilized.com/matcha-lemonade/?utm_medium=social&utm_source=pinterest&utm_campaign=tailwind_smartloop&utm_content=smartloop&utm_term=6110176 PHOTOS AND RECIPE HERE: OH HOW CIVILIZED
11. Starbucks Copycat Very Berry Hibiscus Refresher
Among the other Starbucks Refreshers, the Very Berry Hibiscus is very popular too! This sweet drink will seriously quench your thirst all summer long.
To replicate this drink, you'll need to start by creating the berry hibiscus syrup. Once complete, store the syrup in the fridge until you're ready for a drink! Then combine the syrup with muddled berries, ice, and club soda! It's so easy!
https://www.thetastybiteblog.com/copycat-starbucks-very-berry-hibiscus-refresher/ PHOTOS AND RECIPE HERE: THE TASTY BITE
12. Copycat Caramel Waffle Cone Frappuccino
If you have a craving for ice cream this summer make sure you order a delicious Caramel Waffle Cone Frappuccino! Better yet, make it at home with this easy recipe!
This perfect summer drink is made with brewed coffee, caramel coffee creamer, and a couple of other delicious ingredients! What makes it extra special is that it is topped with whipped cream, a drizzle of caramel syrup and broken waffle cone pieces!
https://www.thesoutherncouture.com/copycat-caramel-waffle-cone-frappuccino/ PHOTOS AND RECIPE HERE: THE SOUTHERN COUTURE
If there's one thing I never feel guilty about buying it's cookbooks, after all they serve a pretty important purpose right?
Have you ever gone out for supper, eaten the best food you could think of and then crave it for weeks to come?
Let's face it, Starbucks is highly addictive. With their long lists of beverages and delicious meals and snack bar, they have...
Call me eager but as soon as Halloween is over I'm ready for Christmas!
Purchasing boxed/bagged food products from the grocery store is convenient, however, I truly believe nothing compares to the...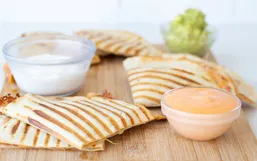 One of my favorite takeout meals is burritos. I love that you get to totally customize a burrito to your liking - from the...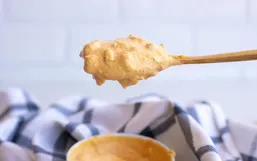 Has anyone else been seeing versions of Big Mac Sauce popping up at the grocery store? I sure have.
Many of us start our day with a trip to Starbucks and fuel our day with a cup of coffee.
What is your biggest challenge when you start a new diet? For me, it's sugar. Forget the deep fried food - I can skip that.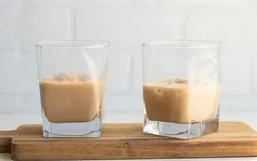 Bailey's Irish Cream anyone? So delicious. Irish Cream Liqueur is a summer drink staple, whether it's in your coffee at the...
When planning a Disney vacation it's important to plan a well thought out itinerary.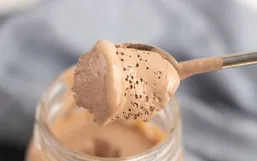 We love a good copycat recipe here at Forkly and this Wendy's chocolate frosty is no exception!