Breakfast is often the most rushed meal of the day. Sure, lunch is eaten while at your work desk and supper may be thrown together before dropping your kids off at extracurricular activities, but breakfast barely gets a thought. Most of us wake up a little later than intended, freak out, jump in the shower, get dressed and race out the door. Not to mention making sure your fam is ready as well!
Instead of getting caught up in the hustle and bustle of the morning and denying your body the nutrition it needs for the day, try these make-ahead egg bites! They can be whipped up in minutes on a Sunday night in preparation for your weekday breakfasts throughout your busy work week. You loved our Starbucks Copycat Egg Bites, so we thought we'd show you more flavors you can create with this simple recipe.
Want New Instant Pot Recipes and Content Delivered Straight To Your Inbox? Sign up for our Instant Pot Email Newsletter!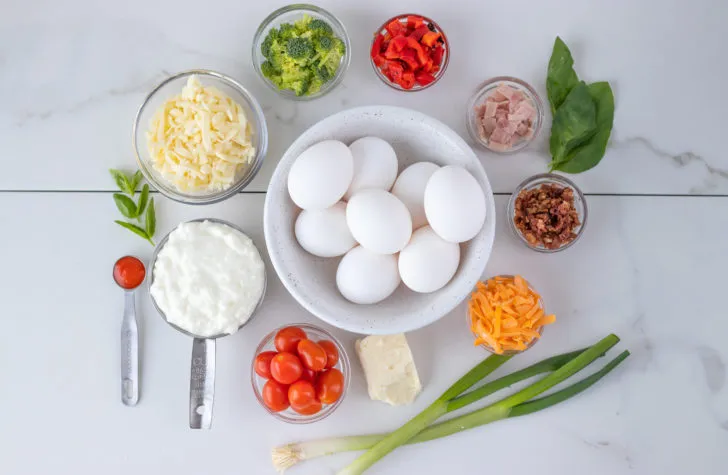 Perhaps the best part of these particular bites is that we give you the recipe for the base and provide ideas as to what add-ins to use. But ultimately, these are completely customizable to your own tastes! We made three types: Ham and Cheese (with sliced ham, mozzarella, and green onions), Bacon Cheddar (with crumbled bacon, cheddar cheese, and broccoli), and Mediterranean (crumbled feta, roasted red peppers, cherry tomato, and fresh basil).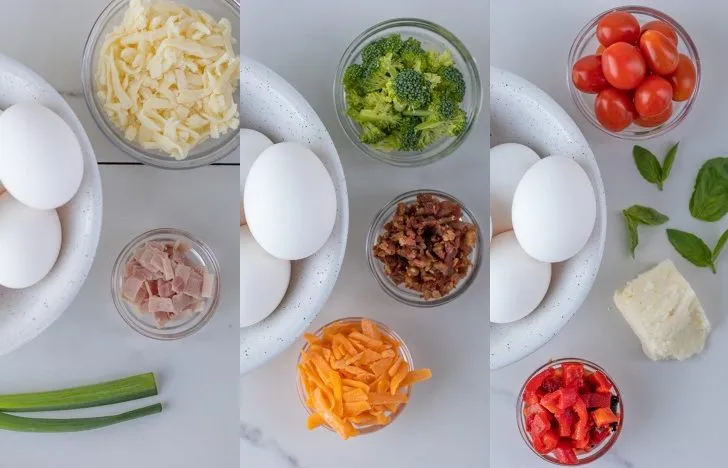 Besides the eggs, one of the most important recipes in the base is cottage cheese! Sure, you usually use it for lasagna, but this type of cheese is the best option when creating a flavorful, eggie breakfast. No one will be able to tell that it's in the recipe because it's blended up in the food processor. It gives the bites a beautiful texture that isn't easily replicated without the cottage cheese.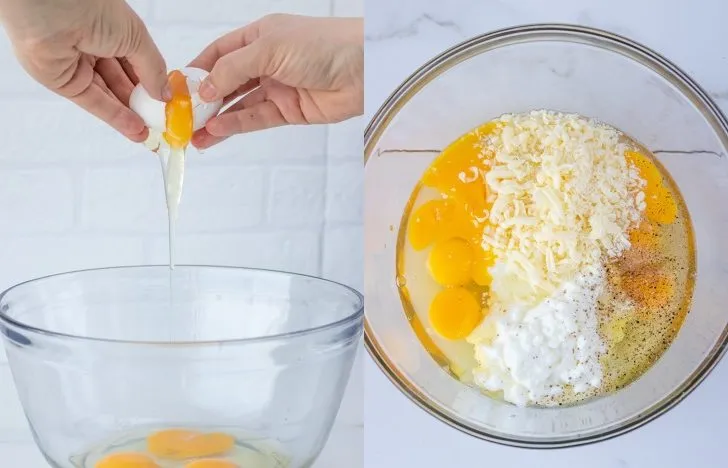 Add the rest of the base ingredients to the bowl, including the mozzarella cheese, salt and pepper, and sriracha. Don't worry if you don't like spicy food – we don't use enough sriracha to add heat in this recipe. It just adds a little bit of flavour, so don't omit it! We used an immersion blender to blend everything, but you could easily throw all the ingredients in a blender and blend on high. Either way, blend until smooth in order to get that creamy base!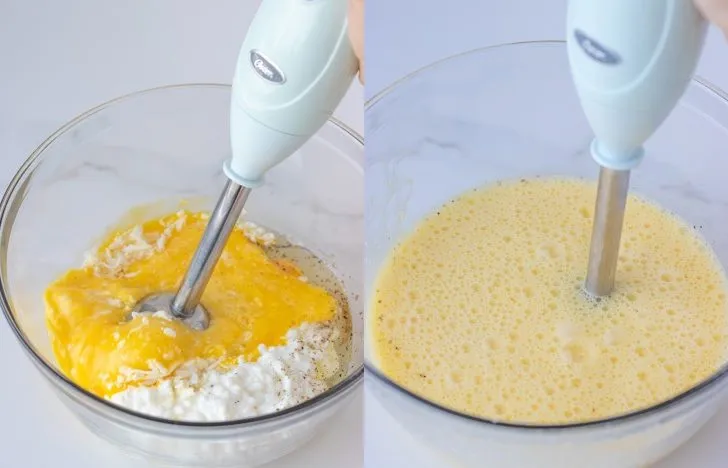 To make these bites, you'll need these silicone molds that have been popping up on Amazon. They are incredible, let me tell you. Worried you won't use them enough? Check out our Ooey Gooey Instant Pot Chocolate Chip Banana Bread Bites that use these inexpensive molds too!
Simply pour the egg mixture into the molds overtop of those tasty fillings and then using a fork, lightly stir each compartment to move the mix-ins around and distribute throughout. There will be enough egg mixture to fill two molds. We cooked them one at a time, but there are some cool hacks floating around online as to how to cook two molds at a time! We haven't tested them though, so use caution if you're going to try it.
Buy on Amazon: Silicone Egg Bites Molds For Instant Pot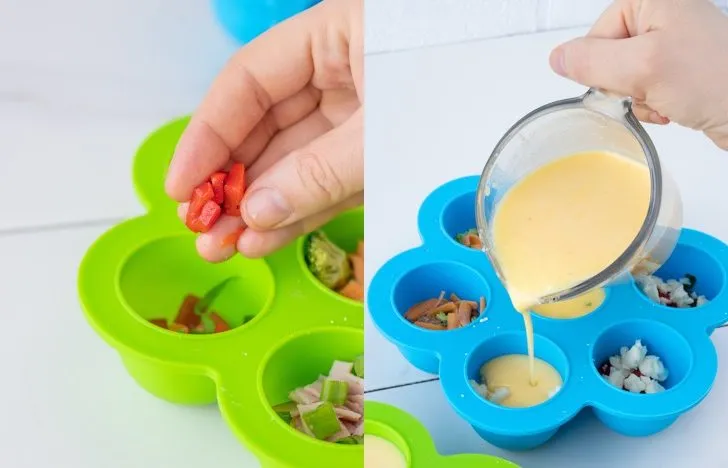 Full warning: Do not use the silicone lids that come with the molds! While they fit perfectly, they are only for storage and may melt or off-gas in the Instant Pot. Instead, cover each mold in tin foil (we used heavy duty to make sure it's completely covered) and add 1 cup of water, then the trivet, then the foiled molds to the pot.
To cook these little bites, you'll use the Steam HIGH for 10 minutes. Once the cook time has elapsed, allow for a 10-minute natural release to continue cooking the eggs, much like you would with hardboiled eggs.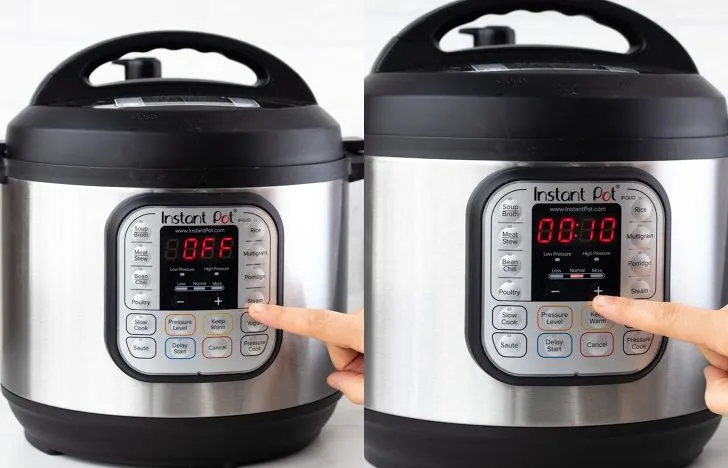 The final product is a nutritious, protein-packed way to start your weekday mornings. You can heat them up in the microwave or better yet (if you've got access to one), a toaster oven! Eat on their own or have a piece of toast or fruit with them if you get really hungry in the morning. Our recipe makes 14 bites and a serving is 2, so you'll have enough egg bites to fuel your entire week! Time to run to the grocery store and get cooking.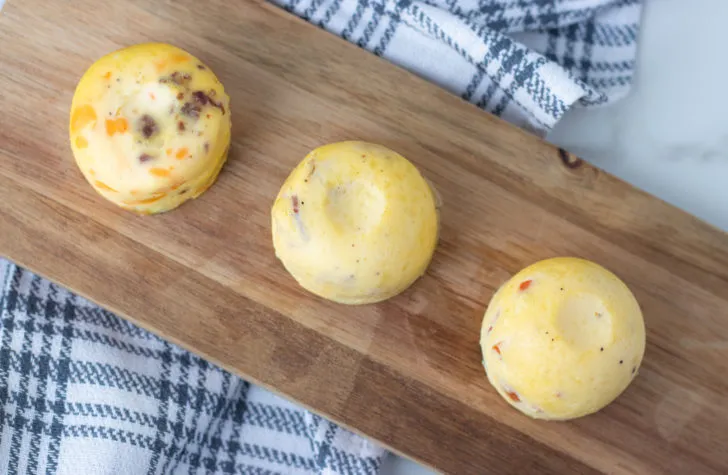 Ingredients
8 eggs
1/2 cup mozzarella cheese, shredded
1 cup cottage cheese
1/2 tsp hot sauce
1/4 tsp each salt and pepper
Fillings of your choice (2 tbsp of each item) - we used ham, mozzarella, green onions, bacon, broccoli, cheddar, feta, roasted red peppers, cherry tomatoes, and basil
Method
Add eggs, cottage cheese, and mozzarella cheese to a blender and process until smooth.
Add fillings of your choice to each cup.
Pour the mixture into the silicone egg cups, dividing equally and stir with a fork. Wrap the molds in tin foil.
Pour 1 cup of water into the Instant Pot. Place the trivet inside, followed by the egg bite mold. Cook one tray at a time.
Place the lid on the Instant Pot and set the valve to sealing. Cook on STEAM HIGH pressure mode for 10 minutes. Make sure "more" is selected (opposed to "less or normal". To change this simply press "STEAM" again until it moves to "MORE". Be sure to double check your time.
Once the time has elapsed allow a 10-minute natural release before quick releasing any remaining pressure.
Carefully remove the mold from the Instant Pot and repeat above steps for the second mold.
Allow the egg bites to cool for a few minutes before popping out the final product! Enjoy hot or store in a sealed container in the fridge for up to 7 days.
Notes
It took our 6 quart Instant Pot Duo 6 minutes to come to pressure but this will vary depending on the model and size of your Instant Pot.
If you're only making one variety (rather than all 3 types we made!) make sure that you have roughly 1 cup of mix-ins total. You want the egg molds to be 1/4 to 1/2 full of mix-ins before pouring the egg mixture in.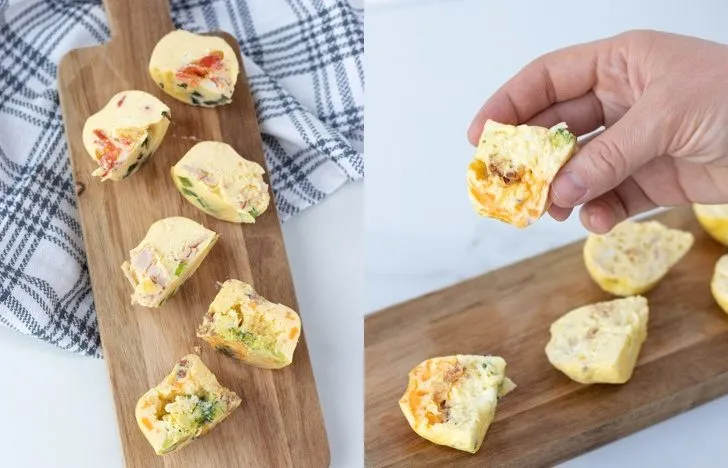 While experimenting with the Instant Pot I quickly discovered that it can not only cook a quick and easy weeknight meal but it can...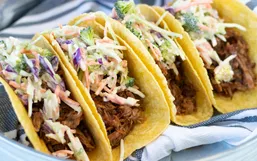 Taco Tuesday is one of my favorite nights of the week! It turns dinner time into a fiesta and it's something exciting for...
If you're like me, odds are you've jumped onto the Instant Pot bandwagon!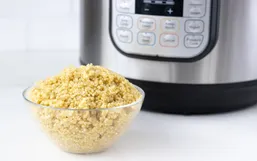 Some would consider quinoa a superfood, and for good reason! It's chock full of vitamins and minerals and is an excellent source...
The Instant Pot has many amazing capabilities. For example, it can cook a meal without heating up the kitchen (perfect for...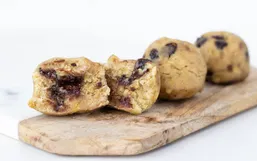 Is there anything better than biting into a warm gooey piece of banana bread? I don't think so.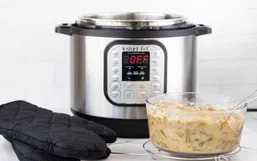 Freezing leftovers is a great way to ensure food doesn't go to waste. It's also a great way to be prepared for busy weeknights!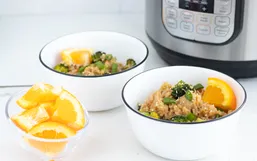 Get ready friends, it's time to enjoy some delicious takeout made at home!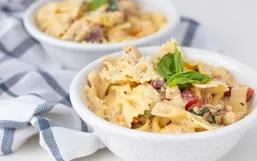 You've spoken and we heard you! Quick and easy Instant Pot weeknight meals that can feed the whole family are top of mind.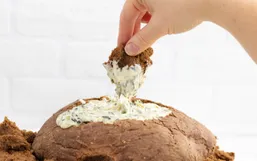 You know it's going to be a good time when there's good food, right? Appetizers are the best way to start off any party.
We've been told time and time again that breakfast is one of the most important meals of the day.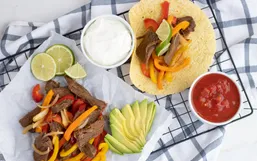 Mexican food is my absolute favorite type of cuisine. It's flavorful, quick to make, and a crowd-pleaser at my house!