Be still my beating Italian heart… just kidding, I'm not Italian and you don't have to be either to enjoy this hearty comforting baked pasta dish. This is a classic, old school baked ziti recipe at heart, but it takes a slight deviation by omitting the usual ricotta cheese and instead gets a new school twist in the form of parmesan cream sauce. This ensures that the ziti comes out ultra-creamy rather than grainy, which after all, is what we're all looking for in a cheesy baked pasta dish like this one.
Ingredients
1 1/2 pounds dried ziti or rigatoni pasta
4 cups of your favorite tomato sauce
2 cups diced mozzarella cheese
2 cups sliced fresh mozzarella cheese
2 cups heavy cream
1 cup grated parmesan cheese
Fresh basil leaves, torn
Salt and pepper
Equipment
Large baking dish
Large mixing bowl
Large pot
Medium pot
Spatula
Whisk
Aluminum foil
Colander
Method
Preheat oven to 400°F with rack in center position. Boil pasta in a medium pot of salted boiling water until about halfway cooked. Reserve 1/2 cup pasta-cooking water, then drain pasta.
In a large mixing bowl, combine pasta with 2 1/2 cups tomato sauce, reserved 1/2 cup pasta-cooking water, 2 cups diced mozzarella, and 1 cup fresh sliced mozzarella. Season with salt and pepper to taste and stir to combine.
Scrape into baking dish and press into an even layer. Drizzle remaining 1 1/2 cups tomato sauce over top of pasta.
Scatter remaining 1 cup sliced mozzarella over top of pasta, cover with aluminum foil, and bake for 30 minutes.
While the pasta is baking, in a medium saucepan, gently simmer cream over medium-low heat, stirring frequently, until reduced to 1 1/2 cups, about 20 minutes.
Sprinkle parmesan cheese into cream and whisk until completely melted and sauce is smooth. Season with salt and pepper to taste. Keep warm.
Increase oven to 450°F, uncover the pasta, and cook until just starting to brown on top, about 10 minutes.
Remove pasta from oven. Let stand for 10 minutes, then top with torn basil leaves, spoon onto plates, and drizzle with Parmesan cream sauce. Serve immediately.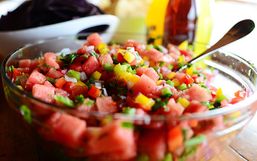 Chips and dip are such an easy go-to snack for entertaining or just preparing a quick and easy snack to munch on.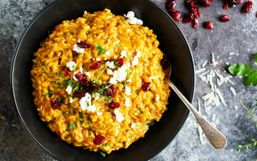 Meatless Mondays are not only a new trending idea on social media, but a healthy way to approach finding a balance between meat...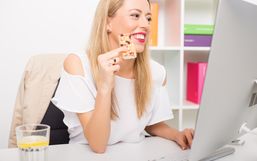 Finding the right protein bar that isn't packed with sugar and additives can be a difficult task.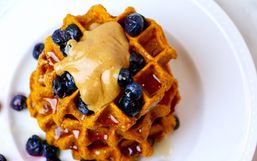 When choosing a side dish carb, many are making the switch from white potato to sweet potato for their dinners.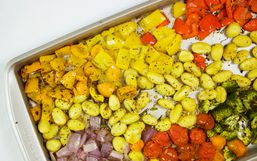 You definitely don't have to be Italian to enjoy gnocchi. Those pillowy dough-balls melt in your mouth and are delicious no matter...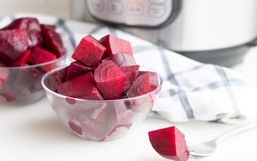 While I love root veggies, they can take a long time to cook. Plus, my oven lets off a lot of heat, making me hesitant to use it...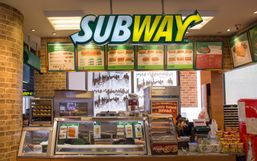 Beyond Meat is spreading like wildfire. More and more fast-food chains are hopping on the plant-based bandwagon.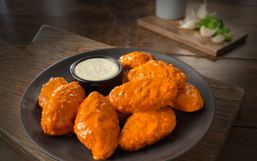 With vegetarian and vegan diets on the rise, more restaurants are hopping on the meatless trend train.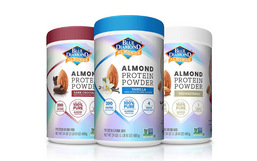 Blue Diamond Growers is entering 2020 with a brand new product, Blue Diamond Almond Protein Powder made from 100% pure almond...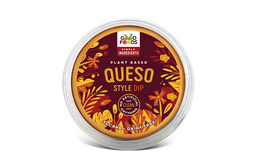 The plant-based diet trend is growing and it shows no signs of stopping!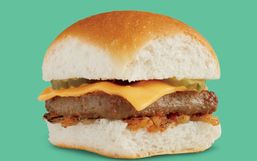 Brace yourselves because White Castle has unveiled amazing news! White Castle announced that they will soon become the very first...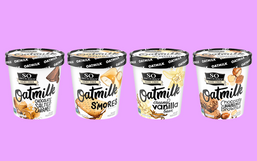 With dairy allergies and vegan dietary preferences on the rise, companies are making the commitment to offer their consumers more...